The strings of your electric guitar largely impact its tone and playability. The older the guitar strings more the problems in its tuning and intonation.
The solution is changing the guitar strings rather than adjusting them. Always buy the best electric guitar string as strings are quintessential to the sound of your guitar and also add to the pleasure of playing it.
If you are out there to buy accessories such as the best strings for your electric guitar, here you can read some important tips to help you buy the right electric guitar strings. Also, if you are a beginner, you would also be interested in knowing what electric guitar strings are and how they impact sound.
CHECK THE TOP ELECTRIC GUITAR STRINGS NOW!
Moreover, our list of Top 15 Electric Guitar Strings are the ones you can consider buying. It is always wise to make an informed choice so that you have no regrets later.
Overview Of Electric Guitar Strings
Guitar strings are the thread-like structures that are plugged in different notions that produce musical tunes when played by a guitarist. Strings are an essential component of guitars which is responsible for making it the most preferred musical instrument in the world. Electric guitar strings are made of metal and classical guitar strings are made of nylon.
Several brands are known for high-quality and durable strings designed and engineered with high standards to produce the best sound. Strings produce bright, vibrant, warm or robust sounds, depending on their gauge, thickness, and length. This is why guitar players are very particular in selecting their electric guitar strings.
Buying just any guitar strings from a popular brand without knowing what type of sound it will produce is not wise. You must be aware of their features, pros and cons and other details of guitar strings before selecting. For example, one of the essential aspects that impact the sound of the guitar is the thickness or gauge of the guitar strings.
As a general rule of thumb, it is easier to play with the light strings than with heavy strings. Consequently, if you are a metal player and prefer detuned scales, higher gauges are ideal for you. That is why new guitars usually come with light-gauged strings which are the best electric guitar strings for beginners to start with.
As you begin mastering your finger movements, picking and fretting skills, strength and control, you can wish to move upwards to the heavier strings. It entirely depends upon the tuning you like and the tone you want to produce.
Playing guitars with different types of strings is one key technique to find which type of string is ideal for you. Many brands provide a set of guidelines regarding the type of electric guitar strings you should buy. They even customize them as per your desired specifications.
However, it doesn't mean that there are no set of general rules that can help you find the best guitar strings. So, it's important to know about the factors you must consider while selecting your strings.
Factors To Look For When Buying Best Electric Guitar String
The variety electric guitar strings available in the market is huge. Well, it certainly doesn't mean you have to keep buying all types of strings to know the best ones suitable for you. To buy the best quality guitar strings, it is essential to focus on certain key elements. Let's take a look at a few of them.
1. Gauge Or Thickness
Gauges of the electric guitar strings are classified as light, medium and heavy sets. Some brands provide the mix of different gauges or even provide separate sets of super light, super medium and super heavy sets. There are no set rules of packaging and the thickness differs from one manufacturer to another.
Generally, for a six-string electric guitar, the size ranges from 0.010 to 0.046. The first string is of 0.010, which is the smallest one while the largest or the sixth string is of 0.046 gauge. Accordingly, the other strings in the row are gauged appropriately.
The setting is done to ensure even feel, tension and sound while playing the guitar. Another common set is from 0.009 to 0.042. The playability factor of this set is pretty easier because of reduced tension. However, tuning and intonation are less stable, which needs a keen detail and constant monitoring.
Initially, it is wise not to remain intact with the pre-packaged string gauges. Experiment with it and practice your skills thoroughly. It will definitely help you choose the best electric guitar strings in the latter times. Just changing the gauge without having subtle knowledge is of no use. Know your tuning and then move ahead to select the most appropriate gauge of your strings.
2. Construction Material
Generally, steel, nickel and similar metals are used for making electric guitar strings. It is a fact that the material used for making the guitar strings plays a vital role in enhancing the tone characteristics and producing the desired sound type and quality. The most common and highly preferred ones are the nickel-plated steel strings.
Strings made from pure nickel metal produce a warm and smooth tone which is ideal for the vintage styles. On the other hand, only stainless steel produces a crisp and bright sound. Moreover, magnetic or magnetically conductive metal alloys are also used which are very effective in transmitting string vibrations.
Apart from the core elements, the material used for coating or wrapping the strings also impacts the tonal characteristics and the sound produced by them. Take a look at some common materials used for making the electric guitar strings:
Steel with nickel-plating: These strings are made of steel and are plated with nickel to perfectly balance the warmth and brightness. This combination is ideal for producing more attack in the strings.
Pure nickel: Strings made of pure nickel are less bright than nickel-plated steel ones, but they have added warmth to produce harder sound.
Stainless steel: Strings made of stainless steel are known for producing edgy, crisp and bright tones. The chances of finger squeaks are less in the strings made from stainless steel because these strings are smooth and do not cause any harsh pressure on the fingers of the player.
Chrome: Chrome strings resonate less and possess high warmth level. Blues and Jazz guitarists often prefer strings made of this material.
Titanium: It has excellent strength and provides brighter tones.
Cobalt: Cobalt strings offer a dynamic range with better pickup response and noted brightness.
Polymer-coated: As compared to the equivalent uncoated strings, polymer-coated ones are corrosion-resistant that provides less sustain to the strings.
Color-coated: The tonality of the color-coated strings depends upon the type of color used and the string's gauge.
3. String Winding
Generally, the high gauge of E, B and G are unwounded. The other three strings in the row are made from the winding wire that is wrapped tightly around the core. The methodology used for wrapping the strings impacts their playability and tone.
Strings may be wound in any of the three methods: half round, round wound or flat wound. Half round strings are smooth in texture, due to which they are used when darker tones are desired.
Round wound strings have a rigged texture that are used when more sustain, bite and attack are desired. Last but not the least, flat wound strings are smooth enough to produce dark and flat tones that are often preferred by jazz and blues guitarists.
4. Coatings
Each string type has different coatings that enhance the playability and lifespan of the strings. To provide a popping and visual edge to the stage performance, multi-colored, neon and all-black strings are also popular choices.
The main purpose behind the string coating is to enhance its durability and make it corrosion-resistant. Generally, there is a build-up of sweat and oil that corrodes the thin structure of the string. Coated strings last longer, as they have a thin film over the metallic surface.
5. Construction
It is not any single structure that impacts the tonality and music of the guitars. Rather, individual components when placed or constructed together form the base of the authentic sound being produced. The central or the middle section of the string is the core which is fixed to a brass ferrule or ball end.
The ball end is an important component that holds the string perfectly. Around the metallic core is the wrap wire, which is the portion that we touch or press with our fingers. These two structures combine together to create a unique sound.
The best electric guitar strings have a strong core with an elegant wrap wire. If you are a beginner, you should know that most of the strings have round wound winding with a hexagonal core. This is because it provides a better grip and also balances the sound quality.
6. Durability
One of the notable factors that determine the durability of guitar strings is the frequency of playing the guitar. If you play it occasionally only a few times a month, then it would be wise to spend on inexpensive strings. However, if you practice frequently and play most of the time, invest in premium grade strings that are strong enough to last long.
For the long run, expensive and heavy-duty strings are the best options. Most of the manufacturers grade the strings as per their strength and durability. However, the tone of the strings is also a primary factor to consider.
7. Tone And Playability
The tone produced by the guitar is the most important factor that guitarists must consider. The playing style, amplitude, and the effects being used are also the complementing factors. The strings are the crucial factor which you cannot ignore at any instance.
Many manufacturers offer strings for specific use, such as for a particular type of music like country, rock, jazz and alike. If you prefer a specific music genre, you should choose the string of appropriate type.
Does the string you choose make the instrument easily playable? If it is harder to play with, you are surely not going to be happy with it. Therefore, without any doubt, the string genuinely impacts the playability factor.
For dropped tuning, it is mandatory to insert heavy strings which sound quite specific. However, for lighter and warmer tones, such strings would only hurt you without impacting the sound much. So, you should be sure of your end requirements before investing in any type of guitar strings.
8. Flexibility And Reliability
Irrespective of the guitar tuning, most of the guitarists prefer such tunes that match their style. Many want colored ones that provide a funky touch to their performance. These days, flat-wound strings are also getting popular after the round-wound strings.
Flexibility is the most crucial part of the best electric guitar strings, especially if you are a renowned artist and perform regularly. If you are working for a company, you are bound to work as per the changes the company wants. Even if you are looking for something new and unique every time, flexibility is the essential factor for you.
Reliability is another crucial factor when it comes to choosing the right strings for your guitar. Always prefer such brands that offer consistent results. Each manufacturer uses different standards to create and design their strings. Two different brands might appear similar, but there would be slight differences in their functioning and manufacturing.
You can check out different brands and read reviews to know whether they are trusted or not. The chances of inconsistency and quality defects are rare with branded names.
Prominent Reasons Why You Should Invest in Quality Guitar Strings
Quality is the most important factor that you need to consider when you are buying any type of guitar strings. Unless and until you know the importance of the quality of the strings, you cannot fetch the right products, no matter whichever tips you follow to do so. Here are a few reasons why quality consideration is so important:
Materials impact string's flexibility
The material used in making the string is the sole factor that determines the flexibility of the string. The composition of 80:20 phosphor and bronze helps in creating sharper and brighter tones. Consequently, to produce a harmonious effect, steel and silk wounded strings should be approached. These are the coating options for obtaining a premium music experience.
Provide a professional and premium look to your guitar
A well-designed electric guitar string does not only create wonder in the tone you play but also impacts the curb appeal of the guitar. During designing and manufacturing of the string, aesthetic factors are given utmost priority. However, quality-oriented strings are clearly revealed with the beauty of the guitars.
Quality strings do not add pressure upon the fingers
What are the most common issues that every guitarist has to face? Of course, it is the sore fingers that cause pain due to prolonged guitar playing. Most of the people claim that lighter gauged strings do not harm the fingers. However, poor quality strings of lighter gauge can impact your fingers badly.
The quality of strings, irrespective of the gauge, helps in removing the painful experience to a great extent. If there is a perfect balance of the alloy used in the core of the strings and its coating, chances of finger hurting are reduced to a great extent.
Enhances the durability of the strings
Quality control directly impacts the longevity of the strings. Well, modern technology has advanced to a great extent, and strings have also undergone various technological advancements to make them highly durable. Durable ones genuinely impact the tone and playability of the string.
Top 15 Best Electric Guitar Strings 2022
1. Ernie Ball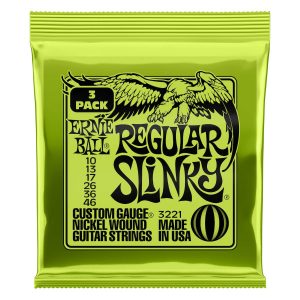 Ernie Ball, the innovative company known for guitar strings, provides high-quality, durable and affordable strings for different musical instruments. These regular nickel wound sets are enclosed in 3 individual sets.
The string is used by the popular legends including Steve Vai, Jimmy Page and Slash. It is the slinky strings which make it highly popular, and they are available in different ranges, coatings and metals. Whether you are a beginner, professional or experienced guitarist, this is the affordable alternative to invest in.
Pros
Element shield packaging that keeps the string fresh
Manufactured in the USA
Finest of materials used for construction
Cheap price
Easy on the fingers
Cons
Strings are a little heavy in weight
CHECK THE CHEAPEST PRICE ON AMAZON!
2. D'Addario EXL110-3D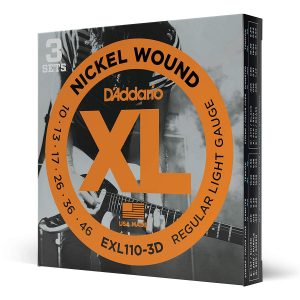 As per trusted customer's reviews, this is the best set of electric guitar strings preferred by the guitarists. Wounded with nickel metal, high carbon core gives it the bright tone, stellar magnetic output and durability. It is highly versatile and is used in wide varieties of guitars.
In this electric string, the gauges are of plain steel and nickel wound of 0.010, 0.013, 0.017 and 0.026, 0.036, 0.046 respectively. There are many professionals who prefer these XL nickel wound guitar strings. The packaging is corrosion-resistant, which keeps it fresh all the time. Designing, engineering and manufacturing of D'Addario's strings are done in the U.S.A.
Pros
Round, wounded and highly responsive strings
Has precision and the core is drawn hexagonally
Proper control of quality and materials ensures high-end performance
Cons
Improper settings might lead to imbalanced tone, leading to crap sound
CHECK THE CHEAPEST PRICE ON AMAZON!
3. Ernie Ball Cobalt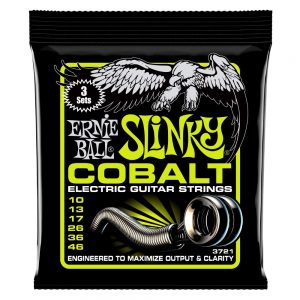 As compared to the other alloy materials used in making electric guitar strings, cobalt gives better and stronger magnetic relationship between the strings and the pickups. The product is designed and engineered to enhance clarity and output. The aim of using cobalt is to provide an unmatchable harmonic response, enhanced low end, clear highs and crisp with dynamic range.
It has a slight blue hue, which makes it completely different from other electric strings of Ernie Ball. These slinky sets give silk-like touch thus ensuring better string bending. Shielded packaging enhances the life and durability of the strings.
Pros
Innovative and latest technology used in designing
Available gauges are 0.10, 0.013, 0.017, 0.026, 0.036, 0.046
Suitable for beginners
Safe for fingers
Cons
CHECK THE CHEAPEST PRICE ON AMAZON!
4. D'Addario NYXL1046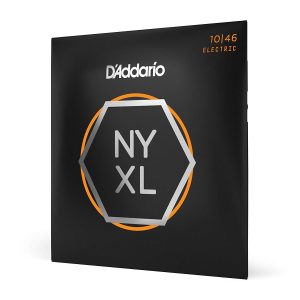 These break-resistant and innovatively engineered nickel-plated electric guitar strings are made from high-carbon steel core and plain steel alloy. Such materials provide a new and exotic level of freedom, imbibing confidence in playing the guitar. The tuning of NYXL is far better than the traditional wound strings made from nickel.
NYXL1046 ensures the best combination of ideal electric tone and comfortable playability. These strings bend easily, and play faster without leading to any cuts and cracks on the fingers. The packaging is corrosion-resistant that protects other string sets well.
Pros
Unbreakable strength due to high-carbon steel
Use of innovative technology improves tuning stability
Manufactured, engineered and designed in the USA
Reasonably priced
Easy to play and comfortable on fingers
Cons
Stiff packaging often deteriorates the strings
When gets tangled, it is quite difficult to untangle them
CHECK THE CHEAPEST PRICE ON AMAZON!
5. Fender 150R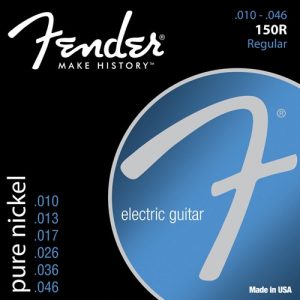 One of the excellent options for jazz, classic, rock and blues is Fender's original 150R. The company aims to make highest-quality wires composed of high-quality manufacturing details. It perfectly helps in bringing the vintage tone with the consistency and quality of the modern days.
The strings of Fender vary in material and gauges that produce different tunes. Fender holds pride in creating the musical instruments and accessories artistically. They pay utmost precision in designing the strings that create an astonishing sound.
More than 60% of the Amazon users recommended this product which is worth every penny.
Pros
Fender strings complement best with both the thicker and thinner gauges
Wrapped with nickel to provide more vintage tones
Perfect for classic, round and full tones
Easy to install
Cons
Quality control and metal coating is an issue that produces fret buzz
CHECK THE CHEAPEST PRICE ON AMAZON!
6. Ernie Ball 2223 Super Slinky Pink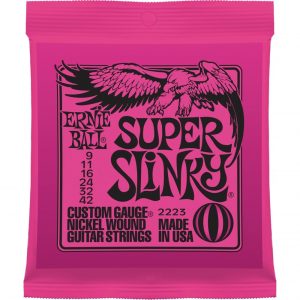 Nickel is the most popular element used in making 2223 slinky electric guitar strings. If you don't prefer experimentation with the strings, this is the worth thing to invest in. The eye-catchy packaging consists of 3 sets of strings.
Each string produces a distinct sound that has different sound quality. The overall output is amazing and is highly preferred by every guitarist, whether they are beginner, experienced or a professional. If you are looking for affordable options within $19, this is the best option to go for.
Pros
High standards provides consistency
Great quality to optimize the performance
Various gauges available
Easy on fingers
Sleek pink attractive packaging
Cons
Settings should be done precisely to ensure better tuning
CHECK THE CHEAPEST PRICE ON AMAZON!
7. D'Addario ECG23 XL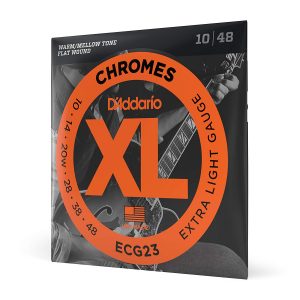 This model of D'Addario's e-guitar string is loved by several guitarists around the world. If you are highly passionate about playing the guitar, try it out with the best ECG23 XL of D'Addario. They perfectly balance the smoothness and warmth of playing the tone.
These flat wound strings are made from stainless steel, which is further polished to provide an ultra-smooth feel to go on easy on your fingers. The string set includes the gauges of plain steel- 0.010 and 0.014 and nickel wound of 0.020, 0.028, 0.038 and 0.048. Packaging ensures that strings would be in perfect condition.
Pros
Made using modern computer-controlled winding technology
Produces highly durable, long-lasting and consistent strings for guitar
Offers full low-end without losing the punch during playing
Highly durable strings
Comfortable on the fingers
Packaging done with corrosion resistant technology
Cons
Continuous use for long hours generally produces flat sound with lack of tonality
Highly priced than others
CHECK THE CHEAPEST PRICE ON AMAZON!
8. DR Strings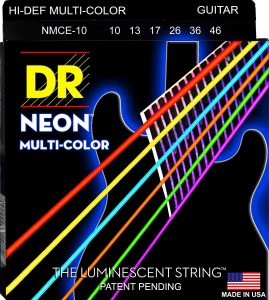 These are hi-def multi-colored guitar strings of medium size (10-46). They are sure to provide an extra pop to your stage performance, especially if the lighting is in UV black. The core of the string is hexagonal in shape with the silver-plated and nickel-plated steel wrapping.
All the strings in the packaging have neon colored K3 coating. The efficient coating enhances longevity, maximizes projection, and delivers fewer undesired overtones. Articulation and clarity are the plus factors of DR strings, which make them the best electric guitar strings out there.
Pros
Neon coloring of the strings makes them highly appealing
Adds a pop touch to the performance
Reasonably priced
Durable
Produce high sound clarity
Cons
Small parts have choking hazard and should be kept away from the children's reach
CHECK THE CHEAPEST PRICE ON AMAZON!
9. Elixir With Polyweb Coating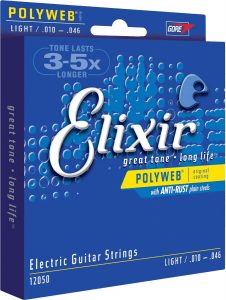 The POLYWEB coating of the Elixir electric guitar strings play an authentic role in protecting the strings from corrosion, dust and dirt. If the strings are safeguarded from these factors, their lifespan is definitely prolonged. The original coating of POLYWEB provides a warmer and the 'played-in' tone.
The patented technology of coating by Elixir protects the strings from usual wear and tear. It genuinely enhances one's way of playing the guitar. When the strings are corrosion-resistant, it keeps the tone same throughout its usage.
Pros
Only Elixir has patented technology of POLYWEB coating
Long lasting
Light weight
Soft on fingers
Cons
Not available in heavy gauges
CHECK THE CHEAPEST PRICE ON AMAZON!
10. Ernie Ball Pure Classic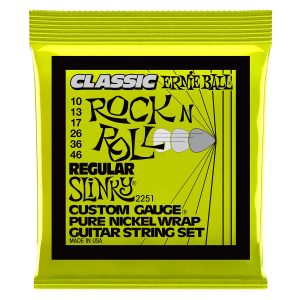 To complement different playing styles like rock, jazz and blues, the slinky strings comprise of pure nickel steel. It is wrapped around a tin-plated high carbon steel core. The pure nickel with high carbon steel core is responsible for creating warmer and richer tones.
It has a precision wound with pure nickel steel. It features finest and freshest material crafted in Southern California.
Pros
Balanced and classic tone
High quality
Sweet sound
Corrosion free
Nickel-plated steel wrap wire produces a brighter sound tone
Cons
Not suitable for producing hard string sounds
CHECK THE CHEAPEST PRICE ON AMAZON!
11. GHS Strings GBL-5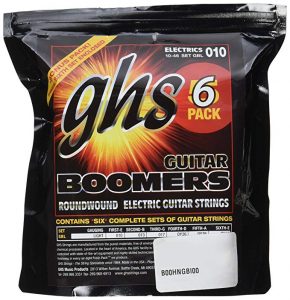 These are light gauge nickel-wound electric guitar strings that are ideal for playing all music genres like rock, country, metal, blues, or pop. The strings are from .010 to .046 and come in a pack of 6 strings
GHS Strings has an innovative resealable guitar strings package that is tampered-proof and sealed for freshness and quality of the electric guitar strings. The zipper-lock of the package allows the user to pick the strings and reseal it to retain the freshness.
The packet includes six complete sets of the guitar strings. This nitro pack comprises of different strings, each packed and sealed in the nitrogen environment. This is a highly-rated product available at a reasonable price. They offer consistency and harmonious sound that lasts longer.
Pros
Made with utmost precision using the best materials
Durable and light weight
Easy on fingers
Right music tone is achieved
Cons
CHECK THE CHEAPEST PRICE ON AMAZON!
12. Gibson Gear's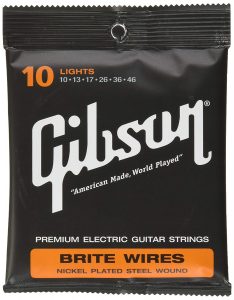 Gibson Gear's nickel-plated strings are the most-renowned and highly-preferred brand by the guitarists. It is strategically formulated to provide a crisp attack to your guitar. The nickel-plating is responsible for adding a touch of warmth in the overall tone.
These are specially designed for the electric guitars. However, other models of Gibson Gear's strings are used in the acoustic guitars as well.
Its 'Brite' wires make it the perfect choice for any instrument. This set has a light gauge that can be played in a band, rhythm or solo performances without leading to any kinds of the fret
It has an Amazon Choice Tag and highly recommended by buyers and professionals.
Pros
Offers sound stability and smooth feel
Suitable for all music-styles
Durable and light weight
Awesome finishing
Comfortable on fingers
Cons
Not recommended for acoustic guitars
Loss of tone if not played properly
CHECK THE CHEAPEST PRICE ON AMAZON!
13. GHS Strings GB-DGF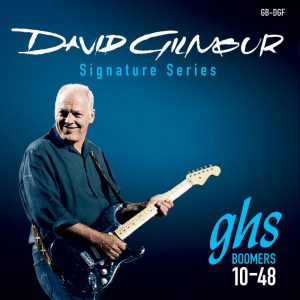 The model name GB-DGF by GHS Strings features NitroPack singles that guarantee freshness just like the factory packaging. These strings possess state-of-the-art perfection which uses climate-control facilities to ensure precision to the equipment. Only purest of materials are used that withstand the test of time while locking the action of corrosion.
As long as the strings are corrosion-resistant, they provide a better tone without compromising the playability. This model is available in the signature series by David Gilmour that attracts the guitarists the most. It has customized gauges designed only for you. It is also known as the David Gilmour 'Blue' set which is highly popular
Pros
Suitable to play music of different genres
Powerful attack quality
High performance and great quality
Light weight
Amazing sound quality
Cons
High price
Suitable for electric guitars only
CHECK THE CHEAPEST PRICE ON AMAZON!
14. Ernie Ball Slinky Paradigm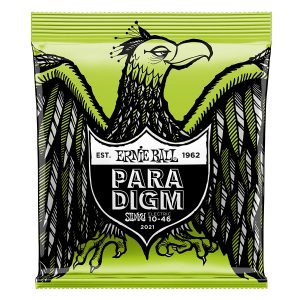 The new wire drawing process is combined with the patented RPF (reinforced plain string) that genuinely enhances the tensile strength of the strings. Immensely high strength steel is used in both the wound and plain strings. At the ball end twist of each plain string there is reinforcement for enhanced tensile and fatigue strength.
It has plasma cleaning features that improve it while making the strings corrosion-resistant. The patented technology of Nano treatment by Ernie Ball removes sweat build up.
Unlike traditional strings, you will not feel any sorts of differences or flaking. It has a legendary slinky tone which prevents any forms of cuts and wounds on the fingers.
The paradigm electric slinky sets provide unmatchable strength and prevent any stressful playing. The combination of nano treatment and plasma-enhanced wrapped wires prevents the accumulation of dirt and debris.
Pros
Gauges . 010, . 013, . 017, . 026, . 036, . 046.
Ultra-high and strong steel used
Provides superior strength and tensile factor
Ideal for playing different music types
Soft on fingers
Durable and high quality
Cons
Price is higher than others
CHECK THE CHEAPEST PRICE ON AMAZON!
15. Gibson Gear Les Paul Premium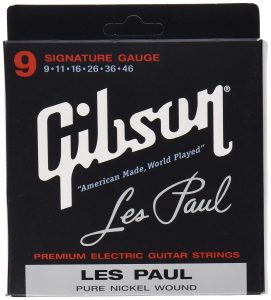 These strings are wound with pure nickel to make the tone smoother and warmer. They are designed to allow perfect punch when you genuinely need it. They have silk-wrapped ends, which leads to the least amount of ambient noise.
They were recently launched in the market of the guitar strings, but their awesome sound and playability have made them quite popular in a very short time.
If you are looking for an affordable alternative, then this model is the most recommended product. The authentic product by Gibson Gear is American-made, which is played by guitarists throughout the world.
Pros
Signature Gauge 9-46
Wrapped in pure nickel
Corrosion free
Durable
Ends wrapped with silk to ensure reduced disturbing sound
Can be used on different types of guitars
Cons
Frequent stretching with high pressure can break the string
CHECK THE CHEAPEST PRICE ON AMAZON!
FAQs on Electric Guitar Strings
1. Which Is The Best Electric Guitar String For Beginners?
The beginners should always prefer light electric guitar strings, as it offers several benefits. Light strings require less pressure for fretting and bending, which makes it easier to play and comfortable for the fingers. There are no set definitions for the gauge, though it should be from 0.009 to 0.042 and 0.010 to 0.046.
2. Does The Gauge Matter While Installing The Strings?
Yes, choosing the right string gauges plays a crucial role in determining the type of sound produced and the playing style of the guitarist.
3. Shall I Need To Change The Guitar Strings Frequently?
There is no need to change the strings of the guitar daily, weekly or monthly. As per the test and trial, the strings should be changed in every three months or after 100 hours of constant playing.
The basis of changing the strings generally depends upon the number of times the guitar is played and how well you store and safeguard it. If you find that the strings look rusty, feel dry or have discolored with time, then it's time to change them.
4. What Is The Meaning Of 'bright' And 'warm' Tone?
When we talk about guitars, we generally hear about the warm and bright tones. When the subjective aspect is considered, bright tones are those sounds that are sharp, crisp, jangly, chiming or bite, particularly related to trebly sounds. On the other hand, warm tones are creamy, smooth, dark, meaty and thick, often relating to the bass sound notes.
Make Your Performance Astonishing With The Best Electric Guitar Strings
No matter what type of electric guitar strings you prefer, it is highly important to consider the notable factors mentioned above. Experiment with the available options a little bit and select good-quality strings designed exclusively for your purpose.
Tons of factors impact the playability, durability and tonality of the string which should not be overlooked at any cost. Don't rely on any single type. Your playing style and music genres are also crucial factors. So, spend some time, understand the technicalities and the options available to find the one that best suits your purpose.