Music is not just a passion rather it is a form of meditation. When we hear something soulful we get pensive and an upbeat bass music can lift our mood like nothing else can. And straddling both the worlds of vibrant and mellow is the acoustic guitar.
When it comes to acoustic guitars there is indeed a vast range of guitars to amaze you and musically entwine you. However, in generally for beginners or even sometimes efficient guitar players it is sometimes difficult to get high budget expensive guitars.
Though a good quality guitar comes at least above 300$, where you can find pretty good options to nail your practice sessions or rock a friendly party within 500$. Check out the list scratched below to know all you're within budget best acoustic guitar under $500.
CHECK THE TOP ACOUSTIC GUITARS UNDER $500 NOW!
It is quite exciting how the range of $300-$500 tagged acoustic guitars is designed for all levels of guitar players.
It does not matter whether you are in the beginner's stage or intermediate or an advanced player, your budget should not intervene with your playing expertise, and for that it is indeed essential to know which best brands, guitars you can bag in within your crisp budget.
Check out the article for a complete guide so that you can fetch the best acoustic guitar under 500 some of which might not be American made, but affordable versions from top American brands.
What Is An Acoustic Guitar?
There are different type guitars available in the musical world, with the primary variations revolving around three generalized segregations namely, classical guitars, electric guitars and acoustic guitars.
However, acoustic guitars have a long drawn historical trail of their popularity with the unforgettable numbers created under the Beatles musical hits, like for example if you can recall Paul McCartney's "Blackbird" or George Harrison's "Here Comes The Sun" or even the ever enigmatic charm created by Bod Dylan on his acoustic guitars.
Keep rolling through the pages of musical hits and you will come across the popularity acoustic guitar strings brought to limelight by Neil Young, Johnny Cash or Bob Marley.
An acoustic guitar is one of the most sought after and popular musical instruments which creates enchanting tunes and melodies from vibration of strings upon a hollow wooden body.
These vibrations carry through the air without the need of any electrical amplifiers, which makes it stand apart from electrical guitars. Acoustic guitars have specially created their patent ground in folk music, country music, bluegrass music and rock music.
Strings Of An Acoustic Guitar
In generally acoustic guitars are designed to have six strings. However, if you are looking for a variation in acoustic guitars you can pick a 12 stringed one which offers exotically rich chorus effects with the double strings of every pitch.
Basically, whether it is an acoustic guitar or a classical guitar, what matters most includes the gauges of the strings, which comes in different ranges. For beginners, gauges are measured and termed is consideration of thousandths of an inch.
The range of lightest strings revolves around .010 while are designated around .059. The experience of playing an acoustic guitar changes with the gauge of the strings, for not only does it influence the ease of playing, but also the pattern, richness of sound, type of music it is used for.
The most popular demands in the market are 12s or 13s which are the light and mid-range of string gauge acoustic guitars.
Factors To Consider While Buying The Best Acoustic Guitar Under 500
When you have already decided to invest in an acoustic guitar, it gets difficult for most to determine which acoustic guitar to fetch.
With so many variations, brands, styles buzzing the market, you essentially need to understand the points to focus on while buying an acoustic guitar. If you are planning to join a band later on or even go for solo gigs then you can even start with an electric acoustic guitar which can be played acoustically at the learner's level and then amped up via the pickup.
1. Budget
Now if it's your first guitar, you need to think before investing a high-end amount. Besides, guitar is a universal musical instrument on which you can play simply any kind of music.
Moreover, at an initial level of playing or learning guitar, it is rather smarter to invest within a limited budget. Therefore, you can look into the range of best acoustic guitars under 500, which has a lot of options, styles and moreover you don't need to invest in additional musical gears with an acoustic guitar, like amp, cable, etc.
2. Portability
An acoustic guitar does not essentially need accessories and attachments for musical enhancement like amplifiers, cables etc., therein it is efficiently portable. However, the factors which can restrain its level of portability include the design, size and weight. If you are looking for a really handy, easy to move with musical companion, look for a model which is light weight, or sleek in design.
3. Top Construct
Looking at one of the major aspects of a guitar, that is the built of a guitar, its shape and size, it is indeed important to also get a score on the solid top. The top (face) of a guitar is front face which is generally made of solid wood, but sometimes laminate is also used.
The use of solid wood improves the quality of the sound created from the guitar, since solid wood helps to attain improved resonance, it also sustains. However, it might be on the edge of higher price limit.
However, in the below given list of best acoustic guitars under 500 you will find both kind of picks with a solid wood top and a laminate top. Moreover, it is also a worthy point to note that the choice and use of wood in a guitar also changes the quality and pattern of the tone created.
4. Neck Design
When it is about guitars, nowadays there is an extensive range of designs available in different types of guitars. Setting apart the basic differences in comprehensive design, even the neck design of acoustic guitars varies widely.
So, whether you are planning to shop from a retail store own the corner of the street or online, it is important to have a crisp idea about acoustic guitar necks. D and C shapes are indeed the most common types of neck design, which again comes in a plethora of variation in accordance to depth and thickness of the necks.
The decision to pick a certain style of neck design will influence your playing style, comfort, etc. therein you must purchase the guitar accordingly. Again, as per your preference you can pick a guitar with neck painted or unfinished.
5. Strings
As discussed above, acoustic guitars in generally come with 6 strings, but there can be double strings as well. It depends on your choice of playing. Your learning styles will determine which kind of strings you will choose.
There is a difference between steel strings and nylon strings and they are not interchangeable. A guitar which will support nylon strings will not be able to bear the tension of the steel strings. If you are more into flamenco and mellow tones then nylon is your best friend. Steel strings are ideal for pop and rock strumming.
Guitar fanatics know the true magic behind stroking those strings and falling in love with the extensive range of guitars available in the market. Now while there are different ranges of guitars hitting the market every year in acoustic guitars, everyone certainly has their own budget line for a buy.
Now, if you are looking for something around or within $500 and you want to look beyond big brand banners like Epiphone, Seagull, Fender, etc. here goes a complete list of 15 best acoustic guitars under $500.
Top 15 Best Acoustic Guitars Under $500 2022
1. Jameson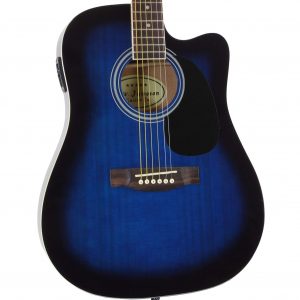 Impressive design and looks with effectively high gloss and appealing dark blue burst finish, makes this 41-inch full scale acoustic electric guitar from Jameson one of the best picks this 2020. Jameson comes with a thin-line design for the body which offers complete ease of playability. This acoustic guitar comes with steel string and for the stage performances it can be plugged in as well.
You can also find amazing maple wood neck long with built in EQ. the diecast enclosed tuners are another added feature which counts among the plus points for this guitar. Another ideal feature to enjoy is the built-in pickup from this guitar with 3 inch body thickness.
Pros
Comes with free gig bag case which includes guitar picks
neck and body binding which makes fretting smooth
Thinline design enhances playing ease
Cons
There are no individual notches for each string
CHECK THE CHEAPEST PRICE ON AMAZON!
2. Fender FA-115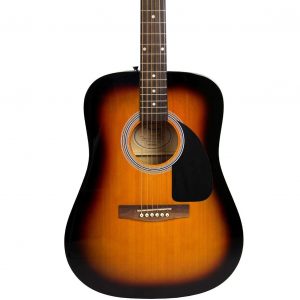 Fender FA 115 Dreadnought Acoustic Guitar attracts attention immediately at a glance as well as stands to be a big bag fetch in this price range. Intriguingly appealing dreadnought body style with a gloss finish provides for a richer and louder sound making it ideal to catch each note and glitch.
While dreadnought pattern among acoustic guitars are the most popular ones for astounding featuring a deep body for balanced tone, Fender FA 115 enhances the feature of top-notch low-end projection.
If you like banging on intricate rhythm work, perhaps this acoustic guitar is the deal for you. Whether you are playing for performances or in long running learning sessions, the rounded shoulders enhance the ease and comfort of playing and handling the guitar. Along with these, one of the added features which immediately capture the interest of guitar players is the 20-fret walnut fingerboard.
Playing ease is enhanced with hardwood bridge and especially designed compensated saddle. The guitar comes with a spruce wood top, which can be credited for its commendable strength, dynamic range and ideal pick for subtle fingerpicking to banging strumming.
Pros
Spruce top with exclusive "X"-bracing
Basswood back and sides offers amazing tone range
Affordable buy for beginners
Digital clip tuner
Cons
Hardwood bridge can peel up
CHECK THE CHEAPEST PRICE ON AMAZON!
3. Jasmine S34C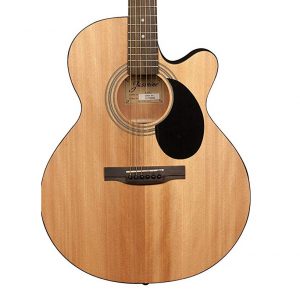 The uniqueness of Jasmine S34C NEX lies in its well-defined Venetian-style single cutaway, which enhances this dreadnought body style and makes access to the fretboard easy.
It is indeed a beginner's delight for playing and striking tones on this guitar is quite easy. The body of this Jasmine S34C NEX is crafted out of African mahogany, stating a guaranteed long term for serving.
One of the added advantages with this design is that it is ideal for finger picking. You need not worry whether you like finger picking, strumming or pounding, this guitar picks every style quite efficiently.
Jasmine ensures no compromise on sound quality with a professional spruce top. The integrated quarter-sawed X bracing is shifted a bit forward to offer enhanced support. The overall design is complemented with a Rosewood fretboard enhancing the ease of playing.
Pros
Produces clear bell like and clear tone
Mahogany as the building material offer soft and warm feel.
Chrome tuners
Cons
The neck design is slim and straight which might not be suitable for all.
CHECK THE CHEAPEST PRICE ON AMAZON!
4. Taylor GS Mini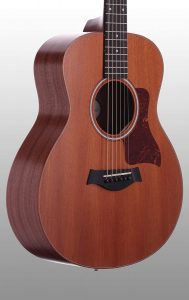 The Taylor GS Mini though one of the smallest dreadnought acoustic guitars in the market, yet in no sense does it poses any inferior degree of sound. Featuring an exotic Mahogany top, this guitar can be said to be a modulated and inspired version of Taylor Grand Symphony Guitar. Therein, this mini acoustic has excellent features of an acoustic guitar featured in some of the big guitars.
Moreover, if you need a guitar which is easy to travel with, and you are carrying your guitar simply everywhere you travel, this is a good pick. Besides the sleek designed neck is easy to hold and play as well.
Pros
Amazing sound quality in this small and compact guitar
Thin neck design enhances playing ease
Travel friendly
Cons
The tuners you might find a bit generic
Price range is comparatively high
CHECK THE CHEAPEST PRICE ON AMAZON!
5. Oscar Schmidt OG2SM-R-U

Oscar Schmidt OG2SM-R-U is a 6-string dreadnought acoustic guitar with a sturdy built featuring unique spalted Maple top and catalpa back and sides. This guitar is designed for both professionals as well as learners.
The first and foremost thing which fascinates one about this guitar is the use of spalted Maple offering a unique texture. The Maple wood used for this guitar is distinctively different owing to fungal growth which is then processed and lacquered to offer the toughness.
The chrome die cast tuners is once again another great feature and the turners have 13:1 ratio. The model is well equipped with adjustable truss rod. To top over it comes the defining headstock bridge and elaborate pick guard style decorative design on this Oscar Schmidt guitar offering an exceptional professional appeal.
Pros
Offer absolute comfort and ease in playing
Quality sound
Truss rods are adjustable
A great buy within this price range
Cons
The tonal depth is not much impressive
Synthetic bone nut can be a little disappointing
CHECK THE CHEAPEST PRICE ON AMAZON!
6. Yamaha JR1 FG

If a sleek and small guitar is what you are looking for, your search ends with the JR1 F1 acoustic guitar crafted by Yamaha, with simplified design, unique looks in a reduced size of ¾.
Yamaha has uniquely designed this acoustic small guitar in terms of materials as well, with classic combination of meranti used for sides and back and spruce choice for top, the dedicated tonewood used in most quality guitars. This black small acoustic guitar is sure to win over hearts with its absolute elegance and neat finishing.
The neck of the guitar sports a nato build, with a rosewood 20 frets fretboard in distinguished satin finish which enhances the looks overall. Overall the JR1 is a worthy buy for players with small body shape, which makes handling and playing this guitar comfortable.
Pros
Quality tone in respect of size.
Compact and easy to handle.
Great tonal quality
Cons
You might figure out a weaker projection
Low-end response owing to size
CHECK THE CHEAPEST PRICE ON AMAZON!
7. Fender CD-60S
Fender offers some of the leading acoustic guitars in the market and the CD-60S is perhaps one of the best picks with a classic pairing of spruce and nato which is very similar to mahogany in tonal properties.
This pairing results in an amazingly lively, versatile, and impressive balanced tone., It is a fact that there can be no comparison between owning a real Fender guitar and investing in any other, and the CD-60S is crafted to stand for the statement with 25.3" scale length dreadnought body with a headstock.
The nato neck of CD-60S allows absolute playing comfort along with high quality of sound. The fretboard is of rosewood with rolled edges adding to the beauty and comfort of playing this guitar.
Looking at this guitar it is also hard to overlook the prominent chrome die cast tuners and rosewood bridge. Playing the strings also reminds you of owning a Fender for its sports Dura Tone coated strings, a unique Fender feature.
Pros
Prominent dreadnought body with spruce and nato classic pairing
Amazing sound quality
Gig bag includes extra strings, picks and a digital clip on tuner
Cons
The plastic nuts may not seem that impressive
CHECK THE CHEAPEST PRICE ON AMAZON!
8. Seagull S6 Original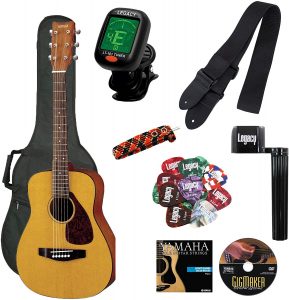 The built up of Seagull S6 Original acoustic guitar is the first thing for sure which would impress one. Elegant cedar top with absolute amazing combination of wild cherry back and sides, makes it one of the classy picks in the under 500$ options. With a cedar top, excellent warm and rich tone which is sure to get you on your toes to move and beat the sound passionately.
Rosewood fingerboard comes along with a elegant Maple neck. The guitar sports a 25.5-inch scale clubbed with a bit wide fretboard compared to many other brands in the list. However, that does not make it difficult to play.
Pros
Classy building material with a cedar top
Highly balanced sound with great depth of tone
Left handed orientation
Cons
Does not come in a glossy finish.
CHECK THE CHEAPEST PRICE ON AMAZON!
9. Yamaha Fd01S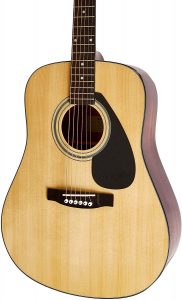 The Yamaha FD01S is crafted to offer absolute delightful projection and enhanced quality of tone. This solid top acoustic guitar is designed for a wide range of guitar players from intermediate to professionals.
This is indeed one of the best buy's you can opt for within an easily reachable budget line. Yamaha is known for its quality and exclusive designs and with FD01S as well it plays fair and offers lifetime warranty for this solid spruce top dreadnought model.
The first thing which catches your attention in this guitar is the spruce top, which is a preferably great alternative of cedar. Though cedar is the best for top, spruce also helps to achieve fine tones.
Besides, nato neck and back is also spruce made, with an intriguing rosewood fretboard topped with a natural finish classic style bridge saddle. The design of the guitar comes with a slim and sleek neck pattern, which is a great pick for players with small hands.
Pros
High quality of sound
Solid top is a pretty good deal in this budget
Guitar set up completed
Cons
Requires somewhat more tuning
Bridge pins might need replacement
CHECK THE CHEAPEST PRICE ON AMAZON!
10. Best Choice All-Wood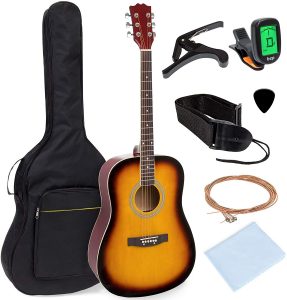 If you are in love with classic style acoustic guitars, perhaps you need to have a look at the 41-inch full-size acoustic guitar from Best Choice Products. This guitar comes with a 21-fret fingerboard design sporting the steel strings, which makes this a perfect pick for beginners, intermediate players as well as advanced stage performers.
In guitars nothing can actually parallel complete wood construct, which is indeed one of the primary features of Best Choice products. This guitar has an impressive classic appeal with sleek design with absolute elegance.
The best thing about purchasing this guitar is the handy kit which comes along including digital tuner, shoulder strap, guitar pick, replacement guitar strings, capo and cleaning rags as well. Which means you have all your equipment's ready within reach.
Pros
Includes foam padded nylon gig bag for easy portability
Sturdy built
E-tuner comes with gig bag
Cons
Tuning might be difficult at times.
CHECK THE CHEAPEST PRICE ON AMAZON!
11. Yamaha F325D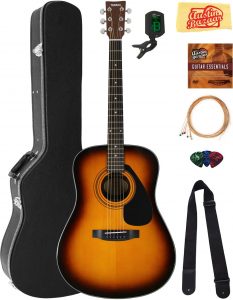 Yamaha buys its fame for the astounding classic dreadnought designs, and F325D Dreadnought Acoustic Guitar justifies the legendary name of the manufacturer just accordingly with a great dreadnought shape.
One of the most appealing features of F325D is the tonewood combination which combines rosewood bridge and finger board along with laminate spruce top. The back and sides of the guitar are built from meranti.
While speaking about sound and tuning it is essential to mention the gold die-cast tuners which provide fine tuning. At the same time you can expect some over the top style with a tortoiseshell pickguard. This finely designed Yamaha acoustic guitar is a beginner's first love. Besides, the product comes with a handy gig bag as well.
Pros
A good buy for students and beginners
Classic design of dreadnought body
Nicely designed Spruce top
Cons
Not an ideal pick for advanced players.
CHECK THE CHEAPEST PRICE ON AMAZON!
12. Oscar Schmidt OG1FYS

Oscar Schmidt presents OG1FT dreadnought acoustic guitar which is an absolutely lovable pick if the buy is intended for kids, teenagers etc. Gift this 3/4th size of normal acoustic guitar to your kids and witness them grow in their learning.
Despite a small size, the guitar does not compromise on several features one of the primary one being great projection strength. Moreover, the magnificent bass response is sure to keep you surprised and amazed. Whether you are buying this for your kid or a small sized person, this lightweight guitar is easy to play and handle.
The top wood is crafted out of spruce one of the most common top woods for high quality tone. You can rely on this guitar for its excellence in resonance with absolute fine high and mid tones producing and enabling players to create vibrant and lively music.
Pros
Good budget buy for kids.
Creates nice range of sound with good resonance
Lifetime warranty provided
Cons
The nuts are crafted of synthetic plastic
Not that sturdy
CHECK THE CHEAPEST PRICE ON AMAZON!
13. Yamaha JR2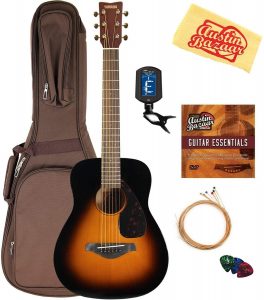 For beginners who want all the guitar accessories at one place to feel sorted, the Yamaha JR2 Junior Acoustic guitar is the right package. It comes with all the much needed accessories you may look for while playing the guitar and taking care of it time to time.
There is a string winder, and then a clip-on-tuner for easy tuning. A gig bag is in the kit to store the guitar when not in use or carry it anywhere. There is an instructional DVD to help with important tips and a polishing cloth to keep up the shine of the guitar forever.
Overall this 21.25 x 33-inch JR2 is a good pick which resembles the poplar FG series of Yamaha. While its tone is very charming and authentic, it comes in a perfect compact easy to carry and play size. Whether you say appeal or sound, it's hard to beat a Yamaha made acoustic guitar.
Pros
The JR2 comes in an all in one kit.
Stylish mahogany texture and look gives nice appeal.
Cons
Color is dark and may not be loved by all.
CHECK THE CHEAPEST PRICE ON AMAZON!
14. Epiphone FT-100

The Epiphone FT-100 Acoustic Guitar is the right instrument for both beginners and professionals. That's because its sound is the right one to play for folk or rock, bluegrass or country and in fact anything.
The sound of the FT-100 is very clear, and the singer's sound also comes in clarity with it. Hence there is no sound overlay or interference while playing the acoustic guitar. A balanced sound output is what every guitarist would look for, and hence, the Epiphone is the right choice.
The color of the FT-100 is a beautiful ebony color, which makes it a great pick. If you love the 1960's vintage style you would love the shape of the FT-100 Acoustic Guitar. Moreover, classic styles are never out of date and with this classic elegance and amazing sound quality this is a good investment for a musical beginning.
Pros
Great sound clarity
Goes with all genres of music.
Cons
The slim taper neck shape resembles 1960 style and may not attract folks looking for urban style.
CHECK THE CHEAPEST PRICE ON AMAZON!
15. Ibanez AW54OPN

Ibanez AW54OPN is comprehensive combination of mind-blowing sound, solid and sturdy built, astounding looks and quality hardware and that too within an unbelievable price range. An artwood solid top dreadnought acoustic guitar within this range is definitely a knockout win for any buyer.
Moreover, if you are looking for a complete and intriguing combination of old and new style of dreadnought acoustic guitars, perhaps this 6-string is the best. The Mahogany body is accompanied with rosewood fretboard which enhances the tone.
One of the major attractions of this model is the advantage bridge pins and die cast tuners. The pins are easy to fit and dismantle, and also essentially differ from old style pins. It makes restringing, and dismantling ease. Besides above all with so many specifications, this guitar is still considerably lightweight.
Pros
Good Feel with the Mahogany body
Rich quality of sound
Compared to quality it is low priced
Cons
The fretboard design could have been better.
CHECK THE CHEAPEST PRICE ON AMAZON!
FAQs on Acosutic Guitars under $500
1. Is It Possible To Upgrade $500 Guitars?
These acoustic guitars are obviously quite high in quality compared to the low-priced ones, but it is always pleasing to transform a good guitar into a great one with upgrades in hardware.
Even if you are a newbie in guitar playing, upgrading a guitar into a higher and efficient one is easily possible with lots of hardware easily available in the market like if you want to have a new nut or saddle, better strings, an advanced preamp system, etc.
Upgrading your existing guitar or even a new bought guitar can be a great idea since it rises the resale value of the guitar as well. You can also look online for exciting new upgrading ideas and ways so as to revamp your guitar with a power packed tech upgrade.
2. How Much Effort Does It Take To Learn To Play Guitar?
Learning to play guitar is not a rocket science but all it needs is memory, practice and lots of practice with the integrated sense of music and rhythm. If you can count on all these qualities in you, the first few months will take you to get stronger with the finger placements and muscle movements. You also essentially need to be comfortable with the neck of the guitar, keeping it in position.
Practice is the key secret to good learning when it comes to guitar playing. Therein not only the scales and the music, it is indeed important to keep stroking the strings, being in a comfortable rhythm with your guitar. Listen to more music on guitar, try enhancing your knowledge and playing skills.
3. What Are The Most Essential Factors To Look In An Acoustic?
Now you can imagine how it will be if you try playing on a huge guitar compared to your body size. If you are not comfortable in holding the guitar it is how difficult it can be. So primarily it is the size of a guitar, which must be noted.
You need a convenient and comfortable neck as well, there are sleek neck designs, wider ones, front inclined ones, etc., you need to buy as per your comfort zone.
Now, it is also important to delve into the tech features. As per your proficiency, you need to choose the guitar, if you are a beginner get a simple, easy to handle not so tech guitar, but for intermediates and advanced players, features play a vital role.
4. Which Guitar Is Ideal For Me?
Every acoustic guitar comes in different body type. In general, the shapes commonly found and used by famous artists in different ages include: OO, OOO, Parlor, Orchestra Model, Grand Auditorium, Dreadnaught, Slope-Shouldered Dreadnaught as well as Jumbo.
Now all these types vary in their shape and size accordingly. Moreover, as per the size and shape the comfort of playing also differs for each guitar, and you need to choose your guitar according to your comfort zone, musical genre, comfort and budget.
Take for example a Taylor Mini which is a sleek and small acoustic guitar fit for small size player, children, beginners who need a definite comfort zone to play. On the contrary a dreadnought is a large acoustic guitar suitable for players with a great body style, broad and larger fingers.
If you don't have longer arms it might be difficult to reach out to the considerably longer and wider fretboard. It is very important to get the right size of guitar as per the player's body style, so that handling the guitar is not a challenge rather it should be a comfortable and convenient experience. You can also look for a guitar with a strap which will make handling easier.
Conclusion
Buying a guitar can be pretty big challenge if you do not consider what you need. It is certainly most essential to understand what kind of guitar you need. Dreadnought acoustic guitars come in a wide range of variety. Even more the market is filled with a plethora of options even when you are looking for best acoustic guitars under 500.
The first and foremost decision is to determine the price range you want to stick to. There are low range acoustic guitars as well as high priced ones as well. Do not be fooled by the looks only, it is important to know the material as well used to build the guitar.
Cedar top dreadnought acoustic guitars are the best in market as per warmth and richness of tone is considered. However, maple and mahogany are also quite common materials used in a wide and extensive manner, offering quality sound as well.
Thus, whether you are starting as a learner or you are an intermediate player, getting the right guitar will help to grow faster and better. Check out the above given guitars since these has been picked in accordance with quality, tech edge and as per market review.
The market might be flooded with options, but when you are seeking for quality against your investment, these above given guitars can truly live up to your expectations.