The love for music takes some talented fingers to master the art of playing a guitar successfully from A through Z. Much like other musical instruments, a guitar too has quite a few accessories, of which the pedal is quite important and thus one of the most sought-after device.
A guitar pedal is one of the most crucial parts of a guitar. It alters sound effects that can be distortion or override. Finding the best guitar pedal is like finding the needle in a haystack when you have so many options available.
The guitar pedal helps you not only enhance your music but also tweak around and play with the scope of the notes that emanate from the instrument itself by merely utilizing this newfound technology.
CHECK THE TOP GUITAR PEDALS NOW!
Are you struggling to get the right pedal to enhance your guitar? This article will guide you through the entire process of understanding the exact purpose of guitar pedals, their different types, how to handle them, and where to find the best guitar pedals to make your music better than ever.
Understanding Pedal Basics
To the beginner guitarist, the term "pedal" can sound confusing. A guitar pedal is a metallic effects box that is connected between your guitar and the amplifier and is controlled using your feet. Also known as the stompbox, the pedal alters the guitar tone by cleaning it and making it louder.
Varying effects are also added in layers with the tone, such as whammy, shimmer, fuzz, and more. While these terms might sound pretty Greek, once you hear the sound effects made, you will completely agree and begin to come in terms with the names too.
Now there are several variations you could add to your music as a guitarist. Right from the type of guitar you use to the advanced hardware. You can make your guitar tunes sound amazingly different, and by choosing the right guitar pedals, you can bring out the best guitar effects without any effort.
Different types of pedals offer various applications. You can apply more than one pedal to your guitar to bring out the different intended effects to your music by only using a pedalboard that interconnects all the pedals to your guitar and the amp. Pedals could be classified into four different categories:
The signal boosting or compressing pedal
The signal modulation pedal
The delay and echo pedal
The pedals for filtering, modeling, and multi-effect purposes
Based on the above-mentioned categories, we have identified pedals into 11 different pedal types, which will fulfill your guitar music needs.
Types Of Guitar Pedals
Though terminologies might differ from brand to brand or from artist to artist, the general categorization of the pedals remains the same.
While some might render your music a unique and individual effect like never heard before, some pedals might give an almost similar tone with a mild difference. Here are the 14 different types of pedals you will come across when it comes to the best guitar pedal accessories. Let us list them one by one.
1. Tuner Pedal
The tuner pedal helps to tune your strings and give you more pleasant music. Some polyphonic tuner pedals also allow you to optimize all the strings at once together. Some of the latest tuners use strobing technology, giving the most accurate of tunes and tuning methods.
2. Wah Pedal
Wah pedals give your guitar a bluer and funky effect. The pedal tunes from the strings will generate a sound much similar to the human voice mimicking the nasalized words "wah-wah."
3. Compressor Pedal
Compressor pedals are more suited to electric guitars, it restricts their dynamic range and gives a subtler tune that a guitar would produce on its own. With only two knobs that control the sensitivity and output of the melody, the compressor pedal is quite user-friendly and easy to use.
4. Distortion Pedal
Distortion is a pretty versatile effect sought after when it comes to guitar music. The distortion pedal gathers all the guitar sounds and saturates the signals to give an entirely different tone.
5. Overdrive Pedal
Amplifiers are built with a limited degree of sound push. The overdrive pedal pushes the sound further by breaking it slightly before it reaches the amplifier and helps the notes to hold for a longer time. Being the first choice among musicians, this pedal is considered one of the best guitar pedals of 2020.
6. EQ Pedal
The EQ pedalis not intended to bring effect to the guitar notes; it is a tool to shape the frequency balance and the immediate impact of the guitar music.
7. Harmonizing Pedal
Thisharmonizing pedal enables you to produce a dramatic effect and alter the sounds of your guitar notes so much that it barely resembles guitar strings. It is also known as the octave pedal or a polyphonic pedal.
8. Tremolo Pedal
The tremolo and vibrato effects that are given by this pedal alter the volume of the notes and pitch, respectively. In doing so,it mildly affects the overall sound texture of the guitar notes.
9. Phaser Pedal
The Phaser is much like the chorus pedal, but it complements the tone with a unique sweeping effect withother peaks and rough tones in the notes struck. Your ability also plays a pivotal role in adjusting the speed rate of the sound with a single knob.
10. Chorus Pedal
The chorus pedal is one of the best guitar pedals used versatilely by musicians to give the guitar a more dramatic mood. The pedal replicates the strings and notes with an off-timing gap, offering a shimmering effect to the music produced.
11. Flanger Pedal
The Flanger pedal is more like the automated version of the wah pedal with a shorter reach to the sound. Just like the phaser, the Flangerpedal also has full effects but has a thicker and more obvious tone in comparison with the only difference being that the Flangerworks on time delay instead of a phase delay. This pedal is best suited for metallic, grunge, or even funk music.
12. Volume Pedal
Although you might prefer an amplifier to a pedal, the volume pedal does a better job at adjusting your guitar volume smoothly while being minimal in change, unlike the amp, which ends up blasting and breaking up the volume of your notes.
13. Echo Pedal
A favorite among musicians these days, the echo pedal helps render dual effects: delay and reverb, creating a repeat effect of the notes with a decaying copy of the original signals stuck. While the reverb effect produces indistinguishable echoes mixing up to give a blurred and yet ambient effect, the delay provides more of a delayed repeat of the notes.
14. Noise Gate Pedals
Although not a favorite among guitarists and a least preferred pedal, the noise gate is intended to eliminate all unwanted hum and distortion in the signal by lowering the volume during music play.
We hope you have comprehended the purposes of the many different types of the best guitar pedals of all time. It is time to understand the significant factors that lead up to choosing the right pedal for your music.
You could refer to music magazines, check out local stores, or even surf the web to understand better about the different types of pedals and the main characteristic features. We are here to help you figure out a superior product from a fake one.
Factors to Look for When Buying The Best Guitar Pedal
Now it is not enough that you buy any guitar pedal and begin to play your music. As an amateur, you might not have started to grasp the benefits of using a pedal, but if you are the expert, then you will truly appreciate the value of pedals and the effects rendered by them both individually and as a combination.
Only when you have understood your musical needs and the purposes of the pedal, then you will be able to identify which pedal is right for you. However, there are a few factors to be considered while looking for the perfect guitar pedal:
1. Genre Of Music
Of course, as a musician, you have a style or type of music you favor while playing songs. Getting accessories for your guitar calls for attention even to the tiniest of details such as musical genre, which will affect the types of pedals you need.
Want not; waste not. Buy the pedal which serves your purpose the most. If you are the expert, then you may gather your collection of guitar pedals and play them using a pedalboard with more flow to your rhythm.
2. Quantity Of Pedals
While most of the pedals might seem like they have similar effects, some serve unique purposes. So if a different pedal already covers your requirement at least in effect, then stick to a minimal number of pedals.
3. Portability
The size and portability of your pedal matter a lot when it comes to choosing the right one for your guitar.
As a guitarist, you should always be on the move, so do not have heavy accessories that will only be a liability while traveling and can cause problems during transportation. Choosing more compact models will be apt, especially if you plan on choosing several pedals to enhance your music.
4. Pedalboard Requirements
A pedalboard is more like an adapter that accommodates your different guitar pedals and keeps them all connected to your guitar and the amplifier.
It allows you to use multiple pedals at a time. Make sure you verify the number of pedals supported by your pedalboard before choosing one. Do not let it be a hindrance during live play or a concert.
5. Band Coordination
If you are playing in a band as a lead guitarist, you must consider which pedals to use for avoiding a clash of similar strings or build to make the song more effective.
Choose your pedals wisely as you may not want to waste money on the same pedal as your other band members. If you intend to make an effect, then ensure you have the right pedal. Get the best guitar pedals of all time and enhance your band music unlike ever before.
6. Unique Identity
While guitar pedals' general function is to enhance the music, it cannot auto-tune your music to imitate a pop star or a rock band. Remember that the pedal merely tweaks your music style with the preset styles. Still, choosing the right pedal that can define your character and speak your mind would help you to set a platform for yourself.
7. Model Choices
It is prudent that you check out as many as models of pedals you can before choosing one. Instead of buying the first one you come across, search around both online and in local markets to find out which guitar pedal best suits you.
Check out the various combinations you can have to bring out your signature style of music. Not only will this explain if bass sound aligns, treble, or a combination of the two.
8. Budget
Check out your budget beforehand and identify the pedals that fit your budget. Once you know which pedals complement your wallet, you can look for pedals that also suit your music requirements.
Do not merely settle for bottom-line cheap pedals. If there is a model that is better and within your budget, then go for it. There are quite a few all-in-one pedals that could fit this criterion and also serve your purpose. So worry not, and dig deeper.
9. Pedal Durability
It is not enough that your pedal appears all glittery or fitted with like a zillion knobs. The durability of your best guitar pedal establishes the value of your investment and also gives you space to think of its worth before buying.
The pedal foot, the cables, and the batteries need to be of high quality to provide you withmaximum durability. So check the quality of these parts in particular to get a better picture of your pedal's worth.
10. where To Buy
In this new age of internet and wifi, you might have realized that the best form of buying is online. Online shopping is not necessarilyperfect for all purchases.
A product that needs to be tried out and compared before being bought cannot be purchased at a glance from the internet. But the online stores do have amazing discounts, offers and price drops. Isn't it enough to muddle your mind with confusion?
Well, the best way would be to check out online reviews, compare models in a regular local store, and if you are convinced, you may go ahead and place the order online.
Once you have shortlisted the guitar pedal defining factors, you may select the aptest pedal from the markets online. You could also visit your local music store and try out a few different pedals. Afirst-hand look will come in handy before deciding on which model to buy.
Allow us to take care of your worry to find the best pedal. We have conducted in-depth research and come up with some of the most beautiful guitar pedals you will find online. All available at affordableprices, along with great offers that are hard to find in a local store.
After a thorough search and comparison, we have shortlisted the best guitar pedals. We are going to save your precious time by listing all of them based on their qualities and unique features.
In this list, you will come across every best guitar pedals of all time. Check out their astounding features and shortlist your favorites without any hassle.
Top 15 Best Guitar Pedals 2022
1. Donner Vintage
This pedal by Donner uses a simple analog circuit that passes a clear and smooth delay effect to your guitar notes. Compact and portable, this pedal has easy in and out ports along with an easy to adjust time knob that controls the echo time and an echo knob that regulates the delay time.
The Yellow Fall pedal by Donner uses a bypass circuitry, which enables the user a transparent tone.
The IC in the device features a time delay of up to 25ms to 600ms for two outputs: effected signal and dry signal. Not only is this fantastic little device perfect for your guitar, but it is also suitable for flutes, pianos, and other instruments.
Pros
Clear delay effect.
Budget-friendly.
Smooth pitch shift.
Cons
A disturbing loud hum during use.
CHECK THE CHEAPEST PRICE ON AMAZON!
2. Cry Baby 9V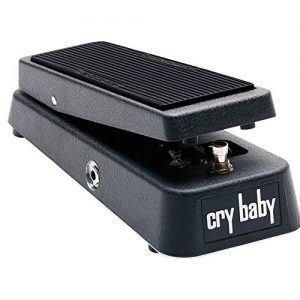 Functioning on a pure 9V battery, this Dunlop Wah-Pedal weighs 3.7lbs and has a rugged build that gives sufficient bass and treble with simple foot rocking movement on the pedal. The pedal provides a boost at a particular frequencyto add, maintain, or create the best guitar effects of your intended overtone.
With a 100K ohm Hot Potz Potentiometer, the Dunlop Wah-pedal by Cry Baby gives quick and instant Wah-Wah effect to your music.
Pros
Metal makes with extra durability.
Simple and easy to use.
It works well on 9V Battery.
Cons
CHECK THE CHEAPEST PRICE ON AMAZON!
3. Donner Portable Alloy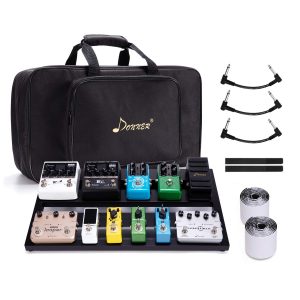 It is not enough to hold a series of guitar pedals unless you can organize them together as you travel and perform. Donner pedalboard helps you align your collection of pedals without any mess, no matter where you are. The portability of the board makes it a perfect accessory.
Available in three different sizes to suit your purposes, the Donner pedalboard consists of aluminum alloy material for better durability. The board features a thick and padded carry-on case for carrying your pedals and the board. The ample slots on the pedalboard allow you to stack your pedals with ease.
Pros
Light-weight board and bag.
Multiple size availability.
Value for money.
Cons
CHECK THE CHEAPEST PRICE ON AMAZON!
4. Ernie Ball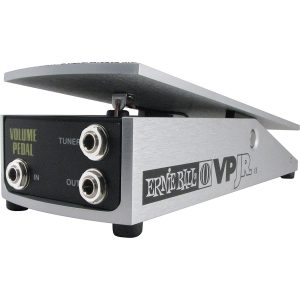 This 250K potentiometer by Ernie Ball is ideal and perfectly suitable for passive instruments. The pedal features a switch that provides the user two different volume swell rates.
Designed into a compact model, the best guitar pedals of 2020 bring high durability and impervious to oil, alcohol, or even any spill for that matter. Made of aircraft-grade aluminum alloy, the model claims to be virtually indestructible.
A quick-disconnect wiring harness enables users to change the pot without any soldering. It features sturdy kevlar cables that transmit your pedal effect to the control it with a smooth and quiet performance; it is not there in gear-based models. This Potentiometer by Ernie Ball weighs only 2.5 lbs, which is a delight to carry around.
Pros
Good volume swell.
Good pedal length.
Well worth the money.
Cons
CHECK THE CHEAPEST PRICE ON AMAZON!
5. Vox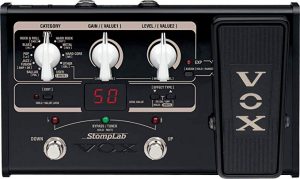 With over 100 different presets categorized into different genres, such as rock, blues, pop, and metal, the StompLab 2G series Pedal is an ideal choice.
This expression pedal is perfect even for novice users that they can access the sound effects with ease. Not only are there 103 different types of modeling effects, but users are also able to edit and save their programs.
A successful brand since the 1960s, Vox has achieved great success with its models, and the StompLab series is quite an impressive contender in the list. The pedal runs on a pure AA battery and has a shelf life of 7.5 hours on a single cell.
Pros
Easy to use.
Long-lasting battery.
Genre variety availability.
Lightweight.
Simple step pedal.
Cons
Overheating of the battery case.
CHECK THE CHEAPEST PRICE ON AMAZON!
6. Moog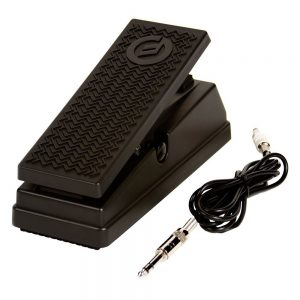 The fantastic craftsmanship on this pedal is pretty robust and reliable that works well with any keyboard, synthesizer, or any CV input. This upgraded version by Moog flaunts a cam system that provides smooth performance and guaranteed durability. The expression pedal has been fitted with a polarity switch that also gives compatibility of the pedal with non-Moog products.
The device is updated with a scalable output knob that helps specify the sound range. The package also comes with a ¼" output jack on a 6.5' cable, which is optional and can be altered to the user's preference. The pedal weighs a mere 2.6 lbs: a perfect lightweight design.
Pros
Worth the cost.
Sturdy build.
Complete control over notes.
Cons
CHECK THE CHEAPEST PRICE ON AMAZON!
7. Asmuse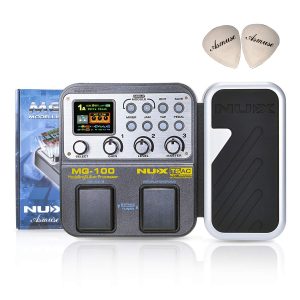 Nux pedal hasfeatured a six-band graphic EQ, perfectly suitable for your electric guitar andloaded upto 58 different preset effects where you can use up to 8 effects at a time.
What makes the best guitar pedal of all time stand apart is the large TFT color LCD panel that makes the pedal easy to use and highly intuitive. The high side is that you can use the pedal with both its DC adapter as well as the stand-by six alkaline AA batteries.
This advanced guitar pedal comes with simple buttons that let you store,play, and use both new and existing presets at a click of a button. What's more, the mixer button allows users to connect the pedal to a recorder or a hi-fi system or even to headphones and other audio devices and play.
Pros
Intuitive screen.
User-friendly controls.
Multiple effects.
Informative display.
Cons
Large and heavy.
Poor build.
CHECK THE CHEAPEST PRICE ON AMAZON!
8. Boss Knob Based ME-80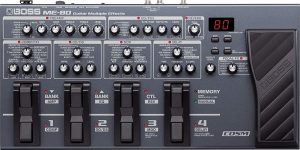 The ME-80 multi-effects pedal by Boss is quite the ideal pedal that any musician would yearn to have. Available to purchase at a nominal price, you get a battery-powered pedal with mobility.
The device features easy on/off buttons, instant recall feature as well as an extensive collection of significant sound effects. Unlike conventional guitar pedals, this ME-80 has footswitches that enable triple control over efficiency, intuitive effects switching, and real-time sound modulation.
Upgraded withthe latest technological breakthroughs, the ME-80 by Boss offers the latest in tone studio software, which opens up an entirely new world of musical possibilities and displays an ample space for incredible graphic interface to tweak and organize your sounds in your computer. What's more, Boss unleashes to the users access free patches presets at their tone accessible website.
Pros
Steel build with a vast array of effects and controls.
Practical and portable.
Worth the cost.
Cons
CHECK THE CHEAPEST PRICE ON AMAZON!
9. Dunlop 535Q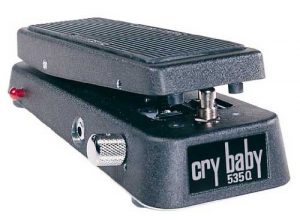 The 535Q Dunlop Multi-Wah pedal by Cry Baby is indeed the versatile choice among all. By allowing you control over almost all the critical parameters, this pedal enables you to produce the ultimate wahsound. Right from narrow to sharp and from subtle to broad, this pedal can deliver the perfect wah pitch.
The Cry Baby pedal gives you newfound freedom of expression, making it highly desirable and branded as the best guitar pedal 2020 has witnessed yet. The Dunlop series by Crybaby has been in fashion for 28 years now and is still hitting the market with 100% satisfaction.
Pros
Complete access to wah customization and adjustability.
Compact and sturdy pedal.
Good battery shelf life.
Zero tonal loss.
Cons
CHECK THE CHEAPEST PRICE ON AMAZON![/su_bhttps://www.amazon.com/BOSS-ME-80-Boss-Multi-Effects-Pedal/dp/B00HV8F694/ref=as_li_ss_tl?keywords=Guitar Pedals&qid=1575188804&sr=8-30&linkCode=sl1&tag=newbayonline-20&linkId=082706901dfd47d51cc631e29b4c78d5&language=en_USutton]
10. Boss Mono Impedance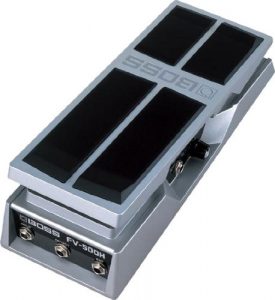 Boss is an established brand in the market when it comes to guitar pedals and pedalboards. The FV-500H by Boss consists of a heavy-duty aluminum die-cast body that is highly durable and stands all weathering and withstands grease like a pro. The pedal is light and compact.
This pedal adorned with a rubber expression; you can use it comfortably, and a non-slip grip will allow you to step on the pedal with a smooth movement. With the presence of a convenient tuner output jack, you can have the best sound effects with minimal efforts.
Pros
Minimum volume adjustment.
Super built-up design.
Full metal body.
Minimal tone loss.
Easy foot access.
Cons
CHECK THE CHEAPEST PRICE ON AMAZON!
11. Dunlop Crybaby GCB-95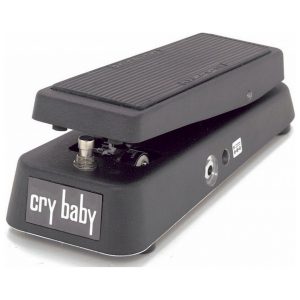 100 Ohm Hot Potz potentiometer gives your pedal an effect unlike ever heard before. You can power the pedal using a 9-volt battery or an ECB-03 AC adaptor for producing a crystal clear Wah-effect. Resembling a giant stapler and costing less than $100, this wah-pedal of the Dunlop series by Cry Baby also features two free patch cables.
The device is a single foot pedal and doesn't need much of an instruction to understand its functioning. With experience starting from the 1960s, the Dunlop series has remained a versatile choice of musicians all over the world.
Pros
Easy to use.
Lightweight and compact.
Anti-slip with rubber grooves.
Budget-friendly.
Cons
CHECK THE CHEAPEST PRICE ON AMAZON!
y
12. DigiTech All-In-One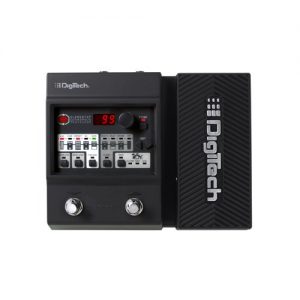 Being an all-in-one effects pedal, the XP pedal by DigiTech flauntsa headphone out port and an amplifier modeler to connect. The best part of the model lies in the 58 effects that have been preset into the stomp box. Of the 58 effects, there are nine cabinets, 37 stomp boxes, and 12 amps with 20 tones per combination of the fx.
The compact design also comes with an in-built chromatic tuner along with built-in 45 high-quality drum machine patterns. Dedicated headphone jacks allow you to practice more and listen better too. Lastly, being an all-in-one model, Digitech sure brings you the best guitar pedal with the makes of a jack of all trades.
Pros
Compact.
Lightweight.
Easy to program.
Money well spent.
Cons
CHECK THE CHEAPEST PRICE ON AMAZON!
13. Jim Dunlop GCB95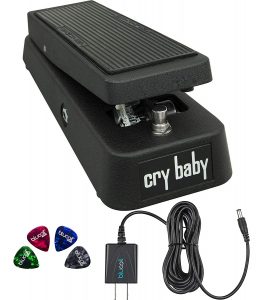 Recreating crystal-clearwah sounds from 1966 hits, the Jim Dunlop series by CryBaby has been modeled with sturdier parts that guarantee you extended use without regular wear and tear.
With true hardwire of bypass circuitry, this model by CryBaby produces clean tones with a consistent tone purity.The eye-catching factor with the Jim Dunlop series is the compatibility with AC adapter as well as batteries, allowing you to plug and play as you travel.
With a low noise potentiometer, the pedal is guaranteed to emit quick and rapid wah-sound effects integrated with your notes and chords. As a bonus, this pack comes with a 4pack of thin Blucoil celluloid guitar picks to accessorize your guitar as you play. The 9-volt battery does not distort your original guitar tone, making it quite a steal.
Pros
It makes classic wah sounds.
Easy to use.
Highly portable.
Cons
CHECK THE CHEAPEST PRICE ON AMAZON!
14. DigiTech SC10W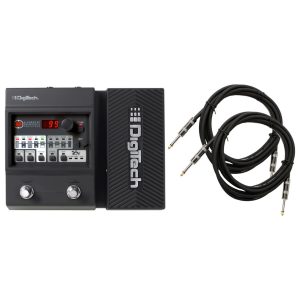 If you are on a cost-cutting spree and looking for a simple all in one pedal for your guitar, then the Element XP by DigiTech is the perfect solution to your search.
With over 100 factories presets loaded into the device, this is the ideal pedal for amateurs or even experts who know how to mix and play while jamming and create up to 100 more custom presets.
The pedal withstands the attack of weathering, dust, and scratches. DigiTech has covered the device with a state of the art shrink-wrap sleeve. DigiTech is a pretty steady brand in the market with over 37 different pedals, nine speakers, and 12 amplifiers to choose from and make your music stand out in a crowd.
Pros
Budget-friendly package.
Compact and easy to carry.
User-friendly and easy to use.
Cons
It has a dead spot during play.
CHECK THE CHEAPEST PRICE ON AMAZON!
15. Dunlop Crybaby GCB-95 Classic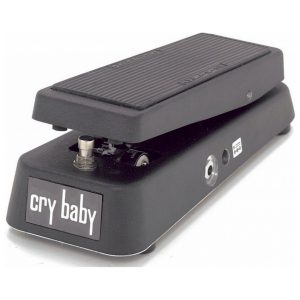 Cry Baby has been a standard pedal manufacturer for several years now, and all its products guarantee only top-notch quality.
This Dunlop series pedal has two patch cables and six assorted picks as a package bonus. As a unique feature, this wah pedal sports a Hot Potz potentiometer, which enables the device to produce quick and abrupt wah sound effects.
Used by many legendary musicians, this wah pedal by CryBaby is the perfect step to rock and funk music effects. Emitting classic wah tones, the Dunlop pedal has been designed with heavy-duty die-cast that guarantees weathering and rough use through years of stomping and stepping on the pedal.
Pros
Top of the line design.
High-quality picks.
Compact device.
Easily portable.
Cons
Power supply socket compatibility.
CHECK THE CHEAPEST PRICE ON AMAZON!
All of the above-mentioned products are the top picks of the market when it comes to the best guitar pedals 2020 showcases. You are always provided with an option of comparing your style with these top pedals; this will help you analyze your music and how to go about choosing your right guitar pedal.
You could always verify with your local dealers for offers and price comparison to get a better understanding of the market stand. But remember to compare different models before making a purchase.
FAQs on Guitar Pedals
Without a doubt, one can never reach a spotless conclusion. We all have doubts about every new technology we come across, and it is right to have our doubts and queries clarified before making a purchase. It is always good to clarify your uncertainties before buying a product, rather than regretting later.
Oneshould seek out a solution because you bought the damn product. So, do you want to clear out the basicconfusion of the best guitar pedal of all time? Here are some of the most frequently asked questions with regards to guitar pedals and buying them, along with their answers.
1. Do All Pedals Come With A Power Supply?
Most pedals do not come with power supplies; however, some models might come with a power supply as a package. Amateur users are advised to lookout for 9Volt pedals, as this is the primary setting of pedals. While pedals are almost always supplied with battery slots, they could stand to drain out during a performance.
2. Should Pedals Be Arranged In A Particular Order?
If you are good at using multiple pedals with your guitar, then sure, your pedal arrangement on your pedalboard matters. Since pedals are placed and connected between the guitar and the amplifier, and the guitar signal will have to travel through the pedals to the amp, the order of your pedals will significantly affect your music.
The general order of pedals requires you to have the distortion pedal followed by modulation pedals such as the echo or Flanger, and so on. By doing so, the distortion pedal gets the cleanest signal from the guitar and passes it with the same quality down the line. Although this is not a compulsory order, in doing so, you will get the maximum of the best guitar effect. You could have your line up to bring out your signature style.
3. Why Do We Need Extra Cables?
Pedals, in general, are not provided with cables, so buying extra cables will be a requirement for sure. To connect your guitar to your pedal, you will need additional cables or a patch cable. A patch cable is an L shaped short wire which makes it easier to connect your guitar to the pedal. Anyway, a little extra cable never hurts anyone, and having extras does serve its purpose when the time comes.
4. What Is The Best Way To Step On A Pedal?
You need to stomp on the pedal as it is pretty sturdy and made to last for a long time. But this can be a considerable hindrance during a live performance or even while using a looper pedal that will require you to turn the pedal at the right moment.
The only way to get through pedal pushing is through practice. There is no other way to step on a pedal than to stomp hard at it. With practice, you will get the rhythm of the pedal and find the right beat, speed, and force to step on it as you play.
5. Why Should I Get A Pedalboard?
Even as an amateur, you are advised to get multiple pedals to understand the different sound, you can render with your guitar and make music more compelling. The right way to do so is to organize your pedals on a pedalboard. Pedalboards are super useful when it comes to playing in concerts or bands.
Although it is merely a board that simply holds onto your pedals, there are several brands of pedalboards that come with accessories like power supplies, cables, or even Velcro tapes that secure your pedals and boxes.
By choosing a pedalboard that can accommodate your collection of guitar pedals, you can organize your music and also transport a pedalboard compactly.
Still, your mind must be flooded with other queries regarding guitar pedals and their uses, but these answers have covered almost all the essential topics about the best guitar pedals.
The internet is bursting with a variety of queries about guitar pedals, which might pick on your interest too. Talk to your friends and colleagues who play the guitar and clear out your doubts.
Get The Best Stomp Out Of The Best Guitar Pedal
Once you get the hang of it, using guitar pedals can become quite the habit, and in no time, you will become addicted to your passion. When you use a pedal, be sure to understand the complex combinations and worth of using multiple guitar pedals. Of course, getting your tones from your pedals or amplifier is entirely a personal choice and preference of the musician.
You might come across several big brands, standard brands, cheap fake brands, regular low-quality budget brands, and many of the mixed combinations of remarks too. But finding the right type of pedal will make or break your streak as a guitarist or a musician.
Find the perfect balance between understanding your style of music, speed beat and rhythm, and use that to tweak out the specific form of best guitar effects that can enhance your music.