Music is something most of us love; and of all musical instruments, the guitar is quite popular. Are you looking to buy your first classical guitar but don't know where to start? Well, if you are a fan of the strings, then first you need to know the difference between a classical guitar and an acoustic guitar in addition to other aspects to consider.
Talking about classical guitars, they are known for a warm and round tone and a soft attack and dynamic response. This is a perfect guide to help you know all about the best classical guitar. Also know why you must choose one and the reasons why these guitars are so popular.
CHECK THE TOP CLASSICAL GUITARS NOW!
Our tips to buy the right classical guitar will help you make an informed choice. Moreover, you will also get to know about top fifteen guitars that we have picked to suit anyone with the love for guitars.
So read on to know everything about the best classical guitars that years have witnessed down the lane.
Knowing The Classic Guitar
A classical guitar is generally used to play classical music and is about four centuries old. An acoustic guitar has steel strings while a classical one has nylon strings. Other differences lie in their fretboard, shape, sound and price, of course.
The history of this musical instrument can be traced back to the early 16th century Spain where it originated. Over the course of several decades, the classical guitar changed significantly whether it was its strings, neck, pegbox, fingerboards, etc.
A classical guitar is also the optimum choice for a solo instrument, as it can render a wide variety of melodies and harmonies at a time. Right from playing a Bach or Scarlatti symphony, the classical guitar gives you smooth transitions even down to a Debussy or Chopin's compositions.
Good quality woods like mahogany, red cedar, spruce, redwood, gives you good acoustics as you play. They derive the back and sides of the guitar from Indian rosewood or mahogany. With a clean neck made of mahogany or cedar and the fretboard made using contrasting wood like rosewood or ebony but mostly without fret markers.
Classical guitars are more than often cheaper than other guitars like jazz or electric, acoustic or bass for instance. The nylon strings of a classical are softer on hands as compared to the tough steel strings.
The biggest benefit of using a classical guitar is that there is no need for an amplifier to get a good output. The pure notes produced by a classical guitar cannot be compared to the distortion or pedal effects. The raw music of the nylon strings is definitely soothing for the ears.
Difference Between A Classical And An Acoustic Guitar
Acoustic guitars are little bigger in size and their body shape is also different than that of a classical guitar. Secondly, a classical guitar has nylon strings while an acoustic guitar has steel strings. Also, you will find that a classical guitar has a wide fingerboard as compared to an acoustic guitar.
When it comes to playing a classical guitar, it is definitely a little difficult but once you learn it you will have many memorable and fun moments.
You can play all types of music on a classical guitar and also experiment with tempo, speed and notes. Even though many consider a classical guitar an old-school type of guitar, yet many consider this as a cool option that provides pure music without any added sound effects. Also, it is lightweight and cheaper.
Reasons To Choose A Classical Guitar
A classical guitar is most definitely the perfect choice for any guitar lover. It is a very simple pick-up-and-play option and can be a real treat in a musical journey. Once you are in love with this beautiful instrument, you will never let go of your classical guitar.
The classical guitar will always stay one step above every other guitar, in terms of quality, acoustics, tones and creative space. Try it yourself to feel the difference.
Here are a few reasons for selecting a classical guitar:
1. Soft Nylon Strings
Most first-timers prefer the classical guitar mainly because of its nylon strings, which keep you from hurting your fingers as you play the guitar. The electric guitar's fretboard and steel-strings mostly end up cutting player's fingers or causing calluses.
This is more of an issue, especially because of the metal piercing into the skin and the taut steel strings having higher tension making you strum the strings with double the effort required while using classical guitars. The subtle and soft nylon strings in the classical let you play without a hassle.
2. No Musical Limitations
Classical guitars are not limited to rendering classical music alone, you can play a wide range of styles. Although the name says 'classical', these strings can even strum out Latin, pop and other quirky tunes. A classical guitar can help you to deviate from the template and experiment with different styles.
3. Space For Fun
A common misconception is that classical guitars leave no space for fun. Unlike other guitars, the nylon strings when combined with a variation of other strings render a very creative style that one may not have heard before.
In fact, a classical guitar gives you more space to be creative and doesn't restrict you from positive experimentation. What's more, the classical guitar has the ability to replicate the effects of a few other guitar types, thus acting as a perfect creative musical instrument.
4. More Sweep Arpeggios
The sweep arpeggio is a style that requires you to mute each note with your alternate hand soon after picking the note. This technique is the easiest and best rendered when performed using a classical guitar.
The perfect reason to sweep on a classical guitar is that you have five fingers at your disposal without being limited to using a guitar pick. This gives more space and ease of play for sweeping arpeggios. Regular practice can get you the perfect sweep arpeggios to steal the show.
5. Solo And Group Performance
Guitarists, in general, require the presence of other guitar players or a band to render smoother music. Either that or they rely on amplifiers and pedals to bring more effect to their music. But by choosing a classical guitar, you can play individually and also team with other players and still stand out.
6. Classical Is A Crowd Popular
The classical guitar has been the stepping stone to inspiring music for several famous rock stars and acts, such as Randy Rhoads, Steve Howe, and even Jethro Tull, who has interpreted Bach's 'Bouree' in E minor with ease. The classical guitar has many tricks up its fret, which go unnoticed by users and many musicians too. Classic songs will never die, as long as classical guitars continue to be played.
7. Its Most Preferred By Rock Stars
If these reasons are not enough for you, you would be amazed to know that most of your favorite rock stars prefer using the classical guitar as they are well aware of its assets and benefits when compared to the other conventional guitars. Many famous pop and rock stars sport and advertise the best classical guitar brands.
8. Tone-Tone-Tone!
The wood build and nylon strings give the classical guitar a more warm feeling while making the tone more smooth and velvety. The notes emanating from the instrument are captivating and purer than those produced by any other guitar. Once you experience the magical reverberation of the classical guitar against your body, you would not want any other musical instrument in your hands.
9. Easy To Master
Unlike the electric or jazz guitars, the classical guitar is simple to master and is closer to your soul as you play with your fingers and not a pick. The multiple notes that you might experience from a classical guitar could confuse you into thinking it is hard to master, but you are sorely mistaken. Even little kids have emerged as prodigies by playing the classical guitar.
Factors To Look For When Buying The Best Classical Guitar
Choosing the right classical guitar can be daunting at first. You can begin by questioning yourself about what you want in a good classical guitar or which classical guitar would suit you.
As a musician, you might have certain expectations from your guitar, for instance, power of the strings, projection of the sound or many other key aspects that pertain to your physical comfort like being left-handed, having stiff joints, shorter hands, stubby fingers, a severe case of arthritis or even a bigger reason like fitting your budget, aesthetics and many more reasons.
Here are the 8 key factors to consider when searching for the best classical guitar:
1. Wood Quality
Depending on your budget, the foremost factor to consider is the quality of the wood. For high-quality sound and acoustics, it is better to go for a more solid build than laminated tops or sides. Having a solid wood will also ensure longer durability through years of rough, continued use, and weathering.
The back and sides of the guitar should have sturdier and harder wood like rosewood. Having a cedar or spruce top will help improve acoustics too. While an ebony fretboard will give better handling, it will cost you more.
2. Neck And Fret
Checking the neck and fretboard of the guitar is as important as checking the entire guitar. Although expensive, the binding around the guitar can also add to the overall quality of the guitar. If the price of the guitar is not an issue, you could opt for more purfling over the body.
Look out for any twists or warps on the fretboard. Although rare, having these traits is pretty bad for your frets. Look at your fretboard through an extreme angle. If the frets appear parallel, there is no need to worry.
Feeling your guitar by gliding your hands from the edge to the neck will help you understand the elevated frets. This could indicate drying up of the wood, a bad sign for the guitar. Rule out such frets.
3. Saddle Separation
Having your saddle or bridge separate from the guitar face or soundboard can be bad. This often occurs in classical guitars, wherein the saddle is either dried out or attached to wrong strings. In the event you find yourself with a poor saddle, it can be fixed, but renegotiate the price for the repair made. The level of damage done to the saddle can escalate varyingly.
4. Soundboard Level
Having a flat soundboard is a sign of a young and new guitar. Aged guitars can have a mild rise in the bridge area. However, a pronounced rise indicates drying up of the guitar that can cause further deterioration. The best classical guitar should have the right soundboard width, according to the wood.
5. Acoustics Amplification
Classical guitars can also be acoustically amplified. Either by the piezo method, with sensitive slivers inserted under the bridge saddle or through contact mics or other microphones applied to with no installation. While peizos give a rumbling tone to the sound, mics give better sound feedback. Having a combination of the two methods will give you more leverage to use your guitar for varying purposes.
6. Wood Rattle
Hearing wood rattle is bad news to the guitar build. By strumming a few chords and looking out for a rattling sound, you can rule out the rattle. While repair is possible, consider the costs accordingly, and demand a bargain.
7. Wear And Tear
Check the build thoroughly for any wear and tear, especially on the lower string side. Paying full price for a worn-out piece of wood is the last thing you would want to do.
8. Resonance  Check
Gently tapping on the guitar face should emanate a clear reverberation. Having a resonant sound with string resonance is indications of a high-quality guitar. Lower quality guitars will only produce little resonance, closer to the sound of drumming on a block of solid wood.
Once you have ruled out all the flaws and ticked off the points on the checklist, you are ready to identify the best classical guitar brands.
Top 15 Best Classical Guitars 2022
1. Lagrima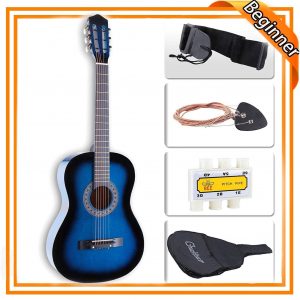 An ideal hard lime wood guitar suits both kids and adults, this 38" acoustic guitar by Lagrima The uniform structure has the best speaker with perfect resonance.
They strings are fitted with open torsional chords that are wear-resistant and have anti-corrosion properties. Lagrima also provides a set of strings along with a high-precision knob that ensures a solid tune. The ABS material is used to coat the surface of the strings to prevent your fingers from hurting.
The workmanship of the guitar is exquisite because of high-quality timbre used to forge it. Made of lime wood the guitar is lightweight and easy to carry and use. Lagrima adds in a smooth and easy to store nylon case, a tuner, strings, comfortable pick to play the strings and a set of straps that connect to the case to carry around.
Pros
Perfect size for holding
Budget-friendly
Good acoustics
Cons
Have steel strings instead of nylon strings
Higher tension to strings
CHECK THE CHEAPEST PRICE ON AMAZON!
2. Yamaha Rosewood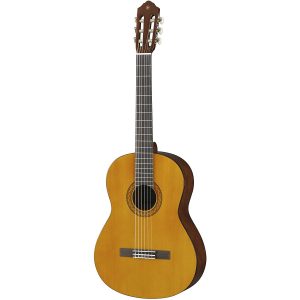 Yamaha is quite a stabilized and standard brand when it comes to musical instruments, especially guitars. The Spruce top and gloss finish give this classical guitar the sexy appeal you would love to sport. The C-series come with authentic nylon strings, letting your fingers brush against the strings with no pain. Fitting well within your budget, this guitar by Yamaha is apt for beginners and young learners.
The amazing craftsmanship and exquisite eye for detailing makes this full-size model desirable by all. Although this model doesn't come with any knots for a strap, they design the model for a closer hold against the body, unlike an acoustic guitar. With an exceptional build and classic tone, this classical guitar is definitely a steal for beginners and experts alike.
Pros
Full-size guitar
Budget-friendly
High sound level
Maintains string tune
Cons
CHECK THE CHEAPEST PRICE ON AMAZON!
3. Best Choice Products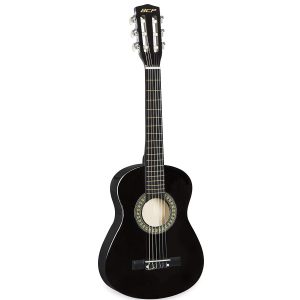 Made to fit the petite hands of kids and beginners, this classical acoustic guitar by Best Choice Products has been designed to perfection with top quality wood.
With a digital clip-on tuner, kids can learn about string tuning and even handle it themselves. This classical acoustic guitar is compact and easily sits onto your kid's lap and allows them to hold it with absolute comfort.
Best Choice Products also make this pack worth the price by adding in an additional set of strings for replacement, a pitch pipe to help kids set the pitch for the tune, a soft and easy to carry a carrying bag, a sturdy guitar pick, and a guitar strap to allow your little ones and other beginners to hang it over their neck and play with ease.
The bright blue shade gives the player a more positive feeling and appears very appealing to the eye as the best classical guitar.
Pros
Cost-effective
Compact
Pleasing aesthetics
Cons
CHECK THE CHEAPEST PRICE ON AMAZON!
4. Best Choice Products Dreadnought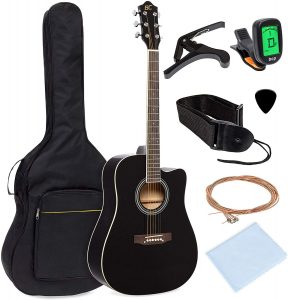 Made to sit amicably well in the hands of the user, this full-size acoustic guitar has been designed with a dreadnought body and a cutaway style, which allows the body to emanate a more vibrant tone, suiting all styles of music. Made of high-quality wood, the fretboard is marked evenly through the board and is provisioned with 20 brass frets.
As an amazing offer, best choice products bring in quite the package with a strap to harness the guitar, a digital tuner to make tuning easy, a polishing cloth to buff your guitar regularly, a capo, an additional set of strings and a set of four easy to use guitar picks. The padded nylon bag with foam helps to protect the guitar from any damage or scratches.
Pros
Budget-friendly
Solid build
High-quality carry bag
Cons
CHECK THE CHEAPEST PRICE ON AMAZON!
5. Omega Class Elegant Basswood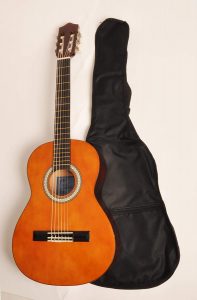 This classical guitar built in the Spanish style is expensive and rare. Made of basswood, this guitar is very sturdy and has excellent acoustics. Ornate patterns around the sound-hole give the guitar a very elegant appearance.
Fitted with six nylon strings with bottom three being silver-plated copper wiring and silk weave over the core, makes the strings very delicate to touch, keeping your fingers safe from any cuts and callouses. In this package you are provided classic open style tuners, giving you an authentic classic experience of the best Spanish guitar.
Pros
Nylon Strings
Easy Access Bag
Value For Money
Cons
CHECK THE CHEAPEST PRICE ON AMAZON!
6. Yamaha Spruce
Measuring a full-scale size, this Spruce top classical guitar will make every onlooker envious. Fitted with nylon strings, the frets are easy to pluck without hurting your fingers at any point in the play. This solid rosewood structuring of the fingerboard and bridge helps enhance the acoustics.
An added advantage to this package is the Austin Bazaar instructional DVD, giving amazing insight and guidance to guitar users. Fitting well within your budget, they have styled the classical acoustic guitar by Yamaha with a nato neck and meranti sides and back thus making it highly efficient while playing.
Pros
Easy to pick Nylon Strings
Convenient Tuner
Compact Design
Substantial Knobs
Cons
CHECK THE CHEAPEST PRICE ON AMAZON!
7. Omega Class Basswood Full-Size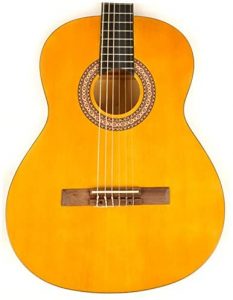 Simple and elegant. This basswood made acoustic guitar by Omega Class is the classical guitar you will find well within your budget. The specialty of the nylon strings is that the bottom three strings are silver-plated copper wires which are also wound with silk over the nylon core. This makes the nylon strings very soft, supple and optimum for plucking by amateurs and kids.
The elegant basswood design sports ornate patterns over the sound-hole, making it more binding to the design structure. With a nato fretboard and bridge, this classical guitar cuts a sweet deal.
Pros
Best Travel Guitar
Optimum Price
Instructional DVD
Cons
CHECK THE CHEAPEST PRICE ON AMAZON!
8. Strong Wind Laminated Basswood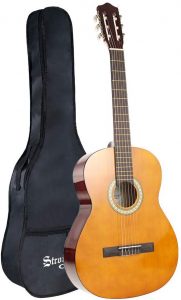 The build of this classic full-size classical guitar by Strong Wind is definitely worth noting. Made from a combination of Basswood and hardwood for the top, sides and back, the neck is made from maple and come with a straight and smooth finish. Ample dreadnoughts in the body help promote good acoustics.
The body has a decent gloss finish along with ornate designs running around the soundhole, making the guitar feel complete and fiery. Strong Wind has designed this model such that it suits adults, children, amateur players, and experienced guitarists.
Pros
High-Quality Strings
Light-weight
Sturdy Case
Cost-Effective
Cons
CHECK THE CHEAPEST PRICE ON AMAZON!
9. Omega Class Spanish Style Left Handed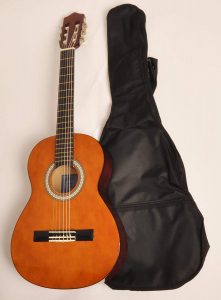 Unlike the usual models, this particular guitar design by Omega Class is meant to support left-handed players. The strings have been arranged to suit their preferences and comfort levels. With super-soft nylon strings and a Spanish style, basswood body, this classical guitar shouts of elegance and comfort.
The package by Omega Class also includes a sturdy carry bag that easily fits your guitar and lets you carry it hassle-free wherever you go. The nato fretboard and bridge complement the design and promote better acoustics.
Pros
Pleasant smelling
Budget-friendly
Perfect pitch and tones
Cons
Higher string position over the fretboard
CHECK THE CHEAPEST PRICE ON AMAZON!
10. Ibanez Thin Line Mahogany

Ibanez is a very well-known and standard brand when it comes to good quality guitars with an affordable price-tag. This mahogany guitar has a traditional classical build that has been designed with perfection and has a pristine tone. Also, it is easy to play.
Fitted with nylon strings, this model by Ibanez is super smooth to pluck and the optimum choice for kids, amateurs and adults alike. With easy to tune knobs and adjustable volume range, this is the best classical guitar brand out there.
Pros
Easy to reach chords
Good acoustics
Convenient neck
Cons
CHECK THE CHEAPEST PRICE ON AMAZON!
11. Kremona Romida Indo-European Style
This artist series styled by Kremona Romida has an unusual combination of solid Indian Rosewood and European Spruce to build up the top and bottom of the guitar. The fingerboard and bridge are made of Ebony, while they define the nut and saddle from an authentic bone.
This artist series classical guitar has been designed and handcrafted by experts in Bulgaria. The neck has been styled from Honduras Cedar, and that gives this Kremona Romida a top of the line design unlike ever seen before. Kremona Romida is a pretty well-known brand worth considering.
Pros
Hard-shell case
Arched top
High-quality strings
Clear sound
Cons
CHECK THE CHEAPEST PRICE ON AMAZON!
12. Ovation Abalone and Rosette

Designed to perfection by Ovation, the Applause Balladeer series sport a mid-depth cutaway look that gives the body a very sexy appeal. With a piezo pickup in the saddle and abalone inlaid rosette, the spruce top classical guitar is the high point of traditional guitars.
The mid-depth bowl structure at the fingerboard allows better playing and offers more comfort while playing too. Ovation has improvised the design with a sleeker headstock, making it more aesthetically appealing.
Pros
Ovation sound-holes
Perfect narrow neck
Nylon strings
Cons
CHECK THE CHEAPEST PRICE ON AMAZON!
13. All Days Music Basswood and Spruce

The overall build of this pure wooden classical guitar involves a combination of laminated basswood and spruce for back and sides as well as the top of the body respectively. This high-quality handcrafted guitar is a steal at a very low and affordable cost.
The maple neck and the ebony bridge and fingerboard promote better acoustics in this classical guitar by All Days Music. Weighing a mere 2.9lbs, this guitar is by far the lightest and most upgraded versions of wooden guitar you might come across among the list of the best classical guitars.
Pros
Compact-build
Budget-friendly
Ideal for beginners
Cons
CHECK THE CHEAPEST PRICE ON AMAZON!
14. Cordoba All-In-One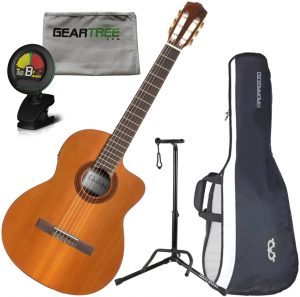 The specialty of the Iberia series classical guitar by Cordoba is that it features a solid Canadian Ceda body top and Mahogany on the sides and bottom. Cordoba brings a more Spanish style guitar design and structure with the only exception being that it has a soft cutaway and a thinner neck.
A combination of the design and Fishman Isys help emanate a more pure and amplified note than you would have ever experienced and one that is perfect for both playing and recording. Getting all the perks along with the best classical guitar Cordoba gives guitarists the perfect offer to live up to their musical talents.
Pros
Lightweight
Great acoustics
Cons
CHECK THE CHEAPEST PRICE ON AMAZON!
15. Antonio Giuliani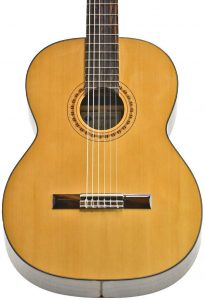 This Mahogany based classical guitar by Antonio Giuliani comes with a premium heavy-duty padded case, a microfiber cloth for cleaning the guitar, a set of nylon strings and Portland backup strings. Polished and crowned frets have a more appealing look in the Antonio Giuliani model.
Hand built and tailored in a Spanish style with dual-action truss rods give the highest acoustics. The body has a solid Canadian cedar top, rosewood bridge, and fingerboard. This fine assembly gives the classical guitar a pristine sound when played.
Pros
Pre-tuned strings
Nylon strings
Budget-friendly
Cons
CHECK THE CHEAPEST PRICE ON AMAZON!
With this list of top 15 classical guitars, you now have an idea of which classical guitar to choose and what features to look for. The various brands, signature styles, and features that define a good classical guitar can be found in the list above. You can buy any of these top listed guitars and enjoy a musical journey.
It is important to choose your guitar after careful research thought and consideration, lest you make a mistake and waste time and money on a guitar that is either junk or unsuited to your style and requirements. Next, we have some FAQs to help you know other important aspects of classical guitars.
FAQs on Classical Guitars
1. Can Humidity Affect The Guitar?
Yes. A wooden guitar can certainly get affected by moisture and water. Being hygroscopic in nature, moisture can shrink the wood as it dries. If the guitar is made or is kept under high-humid conditions, chances of the guitar cracking are high. Investing in a dehumidifier can help keep your guitar dry depending on where it is stored.
2. What Does Guitar Action Mean?
Guitar action refers to the height of the strings above the fingerboard. As the action gets higher, the more difficult playing gets. Lower action will cause a buzz as the frets get plucked. The action of the guitar can be set by adjusting the height of the nut and the saddle.
3. How often should you change the string?
Strings need timely change to rule out sudden wear and tear during a performance. On an average, you can change strings between 20 hours to 200 hours. However, frequent use of the guitar can have string change at 40-60 hours. Bass strings require changing more often as they wear out faster. Getting good quality strings can ensure durability through regular use and wear.
4. Are Classical And Acoustic Guitars Different From Each Other?
The main difference between a classical and acoustic is that classical guitars use nylon strings, while acoustic guitars use steel strings. Classical guitars are built using light wood that emphasizes the resonance of the sound. Acoustic guitars rely more on sturdier and heavier wood that can match the sharp sounds of the steel strings.
5. What Is The Correct Action In Classical Guitars?
As a rule, 3mm in the first string, top E and 4mm at bottom E are the actions required of a classical guitar with a variation of up to 0.5mm. You should always measure the action from the 12th fret right from the top of the fret to the bottom of the string.
At the nut, the actions are measured by plucking frets at the third fret, thus stretching the string between the second fret and the nut. The gap between the string and its first fret should be maintained at 0.25mm in bass E string, 0.20mm in A string, G having 0.1mm, while B, D, and top E string should have almost 0mm action.
6. Which Strings Should I Choose For My Classical Guitar?
Classical guitars are best set when you use nylon strings. They give better resonance and are a good combination against the wood used in the classical build.
Different brands offer different qualities of nylon and steel strings. Check out multiple brands before settling for a particular brand and type of string, for it will resonate with the music of your soul.
7. What Is Neck Relief?
The minute curvature of the fingerboard is referred to as neck relief. This curvature allows for lower action to set against the saddle, thus preventing string buzz. Having a slight concave fret can help achieve this effect on your guitars. There are different solutions are offered by different guitar makers to bring different effects to the notes emitted by the strings.
8. Can Wider Fretboards Affect The Function Of A Classical Guitar?
While a standard fretboard is 52mm wide at the nut and 10mm wide at the 12th fret in a classical guitar, variations are common in different guitar styles. Having a narrow width gives easier access across the strings, but makes playing complex as the strings jammed up together.
9. How Can Spruce Or Cedar Top Affect The Guitar?
Spruce wood produces a brighter, resonant and more pristine tone that has stronger trebles with noticeable separation. Cedar produces a warmer and a complete tone but having less clarity. Cedar is known to open faster than spruce. Cedar produces a tone that is similar to the traditional Spanish sounds whereas Spruce emits a tone close to baroque or renaissance style jam.
10. How Can I Fix A Guitar Crack?
It is advisable to give your cracked guitar in the hands of a professional for repair. This is because a poorly fixed crack could splice up again and ruin the guitar's acoustics, beyond repair. If the crack is minor, it won't affect the tone or playability of the guitar. The only way to prevent cracks is to avoid humidity in your classical guitar, as it can lead to wood drying, which can lead to cracks.
Buy The Best Classical Guitars To Feel Pure Music
Classical guitars produce a very pristine tone and give nothing but only pure and clear music that is soothing for the soul. By choosing the right wood make, fret build and apt accessories, you can have a unique musical experience. With the perfect cutaway and suitable accessories, the output can get doubled or enhanced exponentially.
Always consider the material of build, structure, design, tonal resonance, tone and last but not least the price of the guitar, when buying one. Whether, it is your first or nth guitar, you must keep the tips discussed here in mind. Although high class, pricey, branded classical guitars are sure to give you the best tone and acoustics with long life, there are a few authentic cheaper brands that can cater to the needs of guitarists at an affordable price.
The best classical guitar is not essentially one that shines through or is known for excellent craftsmanship, but one that produces a clear tone and lets you experiment with multiple styles of music. As a simple trick, you can check the neck of the guitar. If it feels smooth and is easy to play without any sticking points, then you can tick it off as the classical guitar you must buy.