When it comes to music, no other instrument has conquered the hearts of musicians like guitars. The desire to flaunt a guitar like a rock star is a common fancy during the teenage, but in some cases, it becomes a lifelong fascination. If playing a guitar is your passion, you must have a nice guitar to begin with.
However, spending too much on your first guitar is not a wise thing to do. In such situations, it is much better to look for a less expensive guitar and buy an expensive one once you are sure you want to pursue your passion. So a lot depends on your purpose of buying the best acoustic guitars under $1000.
When looking to buy a guitar, you will find that there are loads of choices and many things to consider making the whole process confusing; unless you are an experienced guitar player knowing all the practical aspects.
CHECK THE TOP ACOUSTIC GUITAR UNDER 1000 NOW!
One basic aspect is to be aware of difference between an acoustic guitar and electric guitar. This article is about buying the best acoustic guitar under 1000 and other key aspects you must know about them before making a final choice.
Why Buy An Acoustic Guitar?
Many people might suggest you buy an electric guitar because it is comparatively more comfortable to play. Well, if you go a little deeper into the discussion, you will understand that learning an acoustic guitar might be a little harder, but it turns out to be the better choice in the long run.
Before further emphasizing the point, let us first outline some key aspects of an acoustic guitar.
If you learn to play an acoustic guitar, then mastering the electric guitar will become a cakewalk for you.
When it comes to the tone, acoustic guitar, without a doubt, is a lot more melodious and soothing as compared to the noise of the electric guitar. So acoustic guitar has that charm to entice anyone's heart even with a simple guitar riff, resulting in applause for the player.
With an acoustic guitar in hand, you do not have to buy any other add-ons such as amplifiers and cables.
The best part about starting with an acoustic guitar is that you will learn the basic that is required to play any other guitar. Moreover, no denying that an electric guitar is immensely comfortable for you to play, but if your musical journey demands you to explore the music of other guitars, you must start with the particular guitar.
Therefore, if you look at the bigger picture, buying an acoustic guitar has more benefits. Next, read about the tips to buy the best acoustic guitar under 1000.
Factors To Consider When Looking For The Best Acoustic Guitar Under $1000
When you are looking to buy an acoustic guitar, there are a abundance of options available. In order to narrow down multiple options, there are certain factors you need to keep in mind.
These factors will not only help make your search a lot more focused, but they will also enhance your chances of ending up with the best acoustic guitar under 1000.
So, without further ado, let us outline these factors related to buying acoustic guitars.
1. Know Your Needs
Like any other purchase, you have first to ask yourself why you want an acoustic guitar. For instance, if you wish to buy the guitar for professional purposes, the purchase will be a lot different.
On the other hand, if you are a beginner who is looking to buy a guitar to strum in your free time, you should go for a more accessible and less expensive acoustic guitar. So, before you go into the details of which model you want to buy and the brand you must choose, make sure you are very clear about your purpose associated with the guitar.
2. Your Skill Level
Learning to play the guitar is not something you can do in a few days. Your choice of the guitar should depend on your skill level. If you go on and buy a guitar that is meant for professional guitarists, it will prove to be difficult for you to play.
Such a choice will end up discouraging you so severely that you drop the idea of playing the guitar altogether.
To avoid such a puzzle, make sure you know how good you are at playing the guitar, and if you are dedicated enough to follow your passion till the end, everything will fall in order correctly. Make sure you choose a suitable model and start with easy learning. Slow and steady wins the race.
3. Body Of The Guitar
The build of any guitar affects a lot of things. First off, it significantly influences the playability of the guitar and sometimes also the tone. Also, your physical build-up and preference should be considered. Everything depends on the body of a guitar.
For those who are not beginners, this is a significant factor to consider if you are looking for the best acoustic guitar under 1000. A potential buyer must check out the sound hole, shoulder of the guitar, and its overall shape.
4. Strings Of The Guitar
All acoustic guitars are similar in a lot of ways, but there are some variables. Out of these variables, the most common is the strings of the guitar. The strings are available in two types: steel and nylon. It is an unavoidable factor that many musicians set in their list as a priority.
So, if you are somebody who has played a bit of guitar already, you might want to make your choice only after considering the type of strings you want.
5. Shape Of Acoustic Guitars
There are several types of guitars when it comes to the shape of a guitar. For instance, professional musicians prefer to buy concert guitars, but beginners should buy the same.
Similarly, there are other types of guitars that include jumbo guitars, mini-acoustics, and grand auditorium acoustic guitars. Before you choose one of these options, you should do a little research on the pros and cons of each of them in order to end up with the best acoustic guitar under 1000.
6. Tone Wood
Another variable when it comes into picture is the tone wood; it plays an integral part in the quality of the tone. There are many options when it comes to tone wood, ranging from cedar, cocobolo, ebony, koa, and so on.
Each of these different options has distinct tonal characteristics, and you should give them all a go-through before you buy the guitar. All you need to do is type a simple search, and you will come across all tonal characteristics.
7. Your Personal Preferences
It is pertinent to mention here the importance of your preference when buying an acoustic guitar. If you have been playing the guitar for a while, you must have developed opinions about your playing style and what kind of guitar suits you.
You should make a choice only after keeping these factors in mind to ensure that you find the best acoustic guitar under 1000.
8. Your Budget
In the end, everything boils down to the money you are willing to spend on an acoustic guitar; you need to make sure that you do not fall for the cheap ones just because you are saving a heck of money.
The key is to strike the perfect balance between the cost and the quality of the product. You will buy a guitar just once, so it is better to take it as a one-time investment and not compromise with the quality.
The cheap one will save you some penny, but it can never keep up with the quality you can get in a branded product. If you keep this factor in mind, you are sure to end up with the best acoustic guitar under 1000.
Now that you know about the factors to consider while buying an acoustic guitar, it is time for us to debunk some myths that people have about an acoustic guitar.
Myths About Acoustic Guitars People Believe
When it comes to any musical instrument, the lack of information always creates space fora lot of myths. These myths discourage many who wish to play these instruments.
The same goes for the myths surrounding guitars that people tend to believe. Let us debunk some of these myths here for you so that you can get the best acoustic guitars under 1000 without a shred of worry.
One prevalent but the absurd myth about guitars is that the bigger your hand is, the better you can be at playing them. It is not at all true as there is no relation between having big hands and playing guitar. The truth is, you can have a tiny hand, and you can still become a fantastic guitar player of all time. It all depends on how skillful you are, not on the size of your hand or your fingers.
Some people would want to make you believe that you will have to play the guitar for years to perfect it. Well, this is also untrue because it does not matter how many years you have been playing. The most important thing is how often do you play it and if you are practicing in the right manner.
Another common myth is that a beginner should not purchase an advanced or expensive. This myth also makes no sense at all, as it all depends on how dedicated you are. If you are committed to learning the instrument, no challenges can put you off; you should not shy away from buying any guitar you want.
Once you have started practicing on the guitar, make sure you do not pay heed to any of the myths that put you down. Learning the basics may feel tedious at the beginning, but once you get the hang of it, you can play the guitar like a Rockstar.
You should go through the basics as advised to become a guitar player with strong fundamentals. In a nutshell, work hard and play hard.
Top 15 Best Acoustic Guitars Under $1000 2022
1. Jameson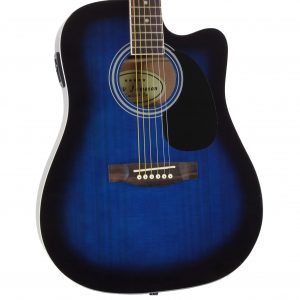 Jameson acoustic-electric guitar is a full-sized thin line guitar, built especially for a right-handed player. Being a lightweight guitar with an organized structure of 3 inches, it is still a full-scale guitar.
It has a single cut-way that gives a smooth, comfortable, and pleasant playing experience. It can be played both acoustically and can be plugged in too.
With a high polish finish, it has steel strings, which are rust-less and dies casted tuners. The best part is you can attract the eyes of your listeners with six different colors.
Pros
Fully scaled along with thin-lining property.
Has rust-less steel strings.
Comfortable to play.
Come with a big case and picks.
Very good and suitable for right-handed people.
Cons
As it is both electrical and acoustic, one cannot expect it to be just an electric guitar.
CHECK THE CHEAPEST PRICE ON AMAZON!
2. Fender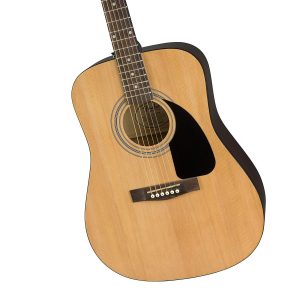 Fender acoustic guitar is a well finished, shining with the walnut fingerboard, and comfortable with additional tools. It is a kind of complete package for players and very suitable for newbie players too. It has spruce on the upper side, a walnut fretboard, and chrome hardware.
Along with that, you will get a hold of a big size bag, suitable picks, extra string set, strap, and an instructional DVD. It weighs almost 10 pounds with dimensions of 45.8x6x17.8 inches, and the fretboard is adorned with rosewood.
A naturally finished guitar with an additional digital electronic tuner will assist you to keep the guitar in tune.
Pros
Has additional things like a digital tuner, extra strings, picks, and a big sized bag.
Suitable for beginners.
Easy to tune.
Glossy finish.
Laminated with a spruce top.
A complete package.
Good sound quality.
Cons
Not every buyer will find it affordable.
CHECK THE CHEAPEST PRICE ON AMAZON!
3. Fender Squier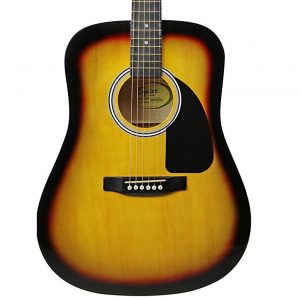 Fender Squier dreadnought acoustic guitar is a performance-oriented, and the good sound-producing guitar featuring steel strings. A well-constructed linden wood finish on the top and the backside has mahogany.
Its full body is laminated so that steel strings don't get rusted or damaged easily; you will find strumming quite smooth and comfortable. The total number of strings is six.
This guitar comes with extra features like mahogany and X-invigorating neck and also a digital tuner, which helps in tuning the guitar accurately. The guitar is lightweight, weighing 10 pounds, and has a dimension of 44×16.5×7.4 inches.
Pros
Slim body.
Mesmerizing sound.
Good for strumming.
Fully laminated body.
Rust free steel strings.
Easy to play the neck part.
Available in six colors.
Dreadnought tone.
Cons
No strap button on the neck.
CHECK THE CHEAPEST PRICE ON AMAZON!
4. Fender Solid

Fender solid top dreadnought acoustic guitar is a full package of good sounded guitar, electronic tuner, instructional DVD cassette, strings set, polish cloth, and guitar picks. It comes in four colors, namely black, sunburst, mahogany, and natural color.
It has a versatile dreadnought of outstanding quality with good wood finishing and produces a perfect sound. It comes with a hard-shell cover, which helps in protecting the guitar for a more extended time.
The guitar is comparatively more massive, with a weight of 14.6 pounds and a dimension of 45x7x18 inches. The fretboard material consists of rosewood.
Pros
Versatile and excellent quality dreadnought.
Added resonance and excellent projection while playing.
It comes with a hard case which helps in protecting the guitar.
Affordable pricing.
Wooden finish.
Additional electronic tuner.
Available in attractive colors.
Cons
When it gets older, the little buzzing effect comes in the fretboard.
CHECK THE CHEAPEST PRICE ON AMAZON!
5. Martin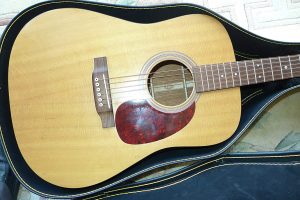 Martin dreadnought acoustic guitar is an excellent sound-producing guitar that features a hard-shell case. The hard-shell case helps in increasing the life span of the guitar and makes it easier to carry it anywhere.
The back material of the guitar is built with Sapele, and the body is made up of Sitka and Sapele.Fretboard content consists of rich lite, and neck material is of strata board.
The neck is thin and smooth, and it is easy to tune this guitar. The best thing about this guitar is its pricing, which is very affordable.
Pros
It produces an adorablesound.
It comes with a hard-shelled case.
It is more comfortable to carry.
Price is affordable with therightquality product.
It has a matte finish.
The narrow and smooth neck makes it easier to tweak.
It has a solid top and fully laminated body.
Cons
It does not come with additional pics and tuner.
CHECK THE CHEAPEST PRICE ON AMAZON!
6. Acdos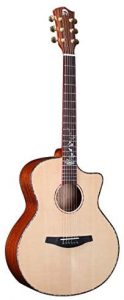 ACDOS fingerstyle acoustic guitar is adorned with a wooden structure with a size of 40 inches. It produces a slightly warmer sound thatis balanced in every manner and also produces impeccable and precisebass. It is a full-sized guitar with standardfeatures and an additional tuner.
The guitar has a weight of 15.43 pounds, which is comparatively higher in the same category but helps in giving good treble and strumming.
It comes in two colors: brown and black. The panel material is spruce, and the fingerboard consists of rosewood. It has closed knob tuners, and its backside plate is built of mahogany.
Pros
It produces a well-balanced sound.
It provides clear bass.
Precisely positioned character.
It has very clear treble.
It has good quality nylon strings.
It does not feel harsh on hands.
Useful for beginners and teachers.
Cons
Weight is slightly higher in comparison to others.
CHECK THE CHEAPEST PRICE ON AMAZON!
7. Acdos Half Cutaway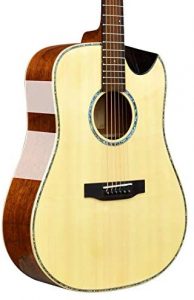 ACDOS half cutaway acoustic guitar is a 41 inched guitar with very affordable pricing. Its panel consists of A quality spruce. With weighting over 5.51 pounds, it is slightly heavy hence provides the best strumming experience.
It has excellent bass generating quality along with needed treble. It has a rugged structure with exceptional durability. You will find it as a full-sized guitar with perfect positioning.
An ideal one for teachers as the sound produced is elegant, and it is perfect for ear training too. What makes it look classic is its body made up of wood, the panel that is constructed of spruce, and the backside is of Sapele veneer.
Pros
Evident bass.
High-quality wood is used.
Treble is clear.
Stylish tuning device & easy to tune.
Nylon strings give easy to play experience.
Fingers don't get hurt.
Cons
No external tuner is given.
CHECK THE CHEAPEST PRICE ON AMAZON!
8. Yamaha CSF3M

An experienced and trusted brand Yamaha has released a very good dreadnought acoustic guitar with resonance augmentation feature coupled with top-braced, its scallop produces extreme quality low and midrange frequencies.
This guitar is ideal even for professional musicians, thanks to the hard-shelled bag, which is included with this guitar. It has all reliable built, and as it consists of aged wood, it produces sound resonance effects. You will find the fingerboard and bridge comprised of ebony wood.
Not to mention, its mahogany back and Sitka spruce top will capture your eyes at a glance. The biggest surprise is that it weighs only a pound, and its dimensions are 3x3x3 inches.
Pros
It is made up of durable and robust ebony wood.
It generates good sound.
It is suitable for professional musicians.
It comes with a hard bag.
A cable and stand.
It produces an excellent acoustic resonance effect.
Cons
This guitar doesn't come with additional picks and string sets.
CHECK THE CHEAPEST PRICE ON AMAZON!
9. Acdos Wide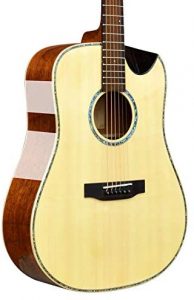 ACDOS wide acoustic guitar captures one's eyes with its 41-inch rosewood handmade built. The beautiful look can assist you in making a soothing sound, which will make your music a delightful experience. Frets are fully aligned with no loosen part, and also no problem resistance is felt while tuning the guitar.
The best thing about this guitar is its design because it is handmade, but being beautiful doesn't let this guitar lowers the sound it generates. It has very rich and vibrant bass creations. If you produce high pitch sound that will also be so much clear.
It has a thin surface finish which enhances its beauty. You will find it comfortable to carry because of its weight of 6.38 pounds, rest assured you can create sweet and warm music.
Pros
Handmade guitar.
It has a charming design all over the body.
Wideness helps in creating a clear sound.
It produces rich sound at both high and low pitch.
Cons
Because of the handmade materials, the item becomes fragile.
CHECK THE CHEAPEST PRICE ON AMAZON!
10. Fender Acoustic
Fender acoustic guitar flaunts mahogany built that leads to the natural and organic finish. This guitar is perfect for beginners because it produces a charming sound and suitable for continuous strumming.
Like the sound, its visual and outer design also adds an earthy feel to it. The weight of this guitar is 17 pounds, which makes this guitar a little bit heavier. The entire body is made up of mahogany, which makes its life span long-lasting.
It has an open-pore top and X-bracing. A hard-shell cover also comes along with the guitar to make it sustainable, safe, and easy to carry.
Pros
Blushing natural finish makes this guitar beautiful.
Outstanding clarity.
Balance-wise also this guitar qualifies all the parameters.
Affordable price.
Good for beginners.
String parting and X-bracing makes the sound range dynamic and notable.
Cons
Suitable only for beginners and new learners.
CHECK THE CHEAPEST PRICE ON AMAZON!
11. Rounded Acoustic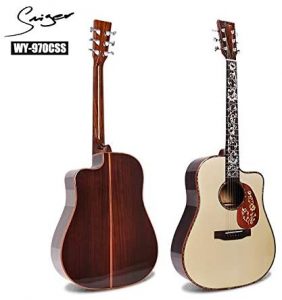 This guitar is a folk-pop guitar that features spruce color and has a size of 41 inches. Only good quality wood is used in the making of this guitar, so it is not easy to break or to get a crack on this guitar.
The fingerboard consists of rosewood, and back and side panels are made up of mahogany wood. It is weighted around 4 kg and suitable for both kids and adults.
Its sophisticated knob and tuner will give you an even tuning. Due to roundness in design, it is easier and very comfortable to hold this guitar. It produces incredible music and suitable for finger style playing.
Pros
Provides excellent and smooth shifting while playing with fingers.
Suitable for both kids and adults.
Advanced tuner gives stable tuning experience.
Easy to hold and play due to round design.
Cons
Available colors may not be attractive to all.
CHECK THE CHEAPEST PRICE ON AMAZON!
12. Acdos Cutaway Acoustic Guitar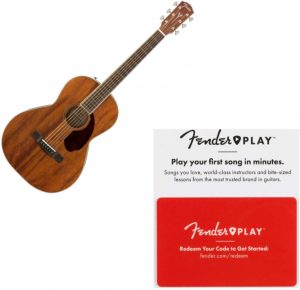 ACDOS acoustic surface veneer cutaway guitar has a built of spruce, its backside plate is formed of mahogany, and the fingerboard consists of rosewood material. It has an incredible tone, a perfect spruce ad mahogany finish.
Its cut design helps in gaining access to the highest fret easily. Like other ACDOS guitars, it also produces good bass and treble, which sounds very clear when listened.
With a low-price tag, it gives excellent experience. It creates a balanced sound, easy to tune, and also an excellent volume for this size. Build quality is also good with 41-inch size and 6.61 pounds weight.
Pros
Both high and low pitch sounds are clear.
It balances sound production.
Cheap in price.
Comfortable for beginners.
Good quality nylon strings.
It produces a versatile sound.
Cons
Few adjustments are needed for lower action.
CHECK THE CHEAPEST PRICE ON AMAZON!
13. Acdos Full Acoustic Guitar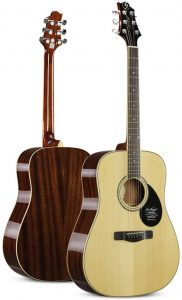 ACDOS 41 guitar with a beautiful design on the fretboard is a low-cost guitar and suitable for beginners. Its unique appearance, along with bold sound production, makes this guitar in the buying list of many buyers.
Flowery design on fret makes this guitar look so beautiful. Due to spruce, it is protected and also looks visually appealing. Its headstock angle is perfect for novice players or learners, and it also provides flawless transitions among the chords.
Spruce panel, along with mahogany back panel and rosewood fingerboard makes it beautiful and produces a fantastic sound. It has a cutaway design that helps in accessing all the frets smoothly.
Pros
Cutaway design helps in reaching the highest fret with ease.
clarity of High pitch and low pitch sounds or treble and bass.
Its dreadnought body provides profound and bold acoustic sound.
Cons
Strings produce more buzz sounds than electric guitars.
CHECK THE CHEAPEST PRICE ON AMAZON!
14. Ashthorpe Full-Size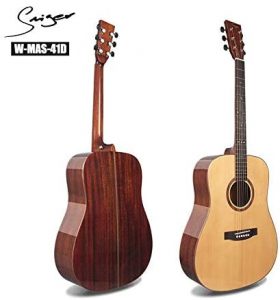 Ashthorpe's full-size acoustic-electric guitar is full of features and very compatible. At a glance, you can figure out is made of top-quality materials. This guitar has an incredible sound and perfect for the new musicians as well as for the professionals.
The tone of the guitar is pretty impressive because of beautiful hardwood. It is created using the X-braced, A-grade spruce wood, which is famous for its versatility and resiliency. This guitar is always responsive and retains the tonal integrity does not matter whether played soft or loud.
It not only has incredible looks, but it is lightweight. Professional finishing touch makes it stronger. It also has integrated 4-bands pick up equalizer along with the volume control knobs. The product weighs 8.28 pounds, and the overall dimension of the product is 41 x 19 x 5 inches. It has a thin line cutaway design.
The full body of the guitar is 41," and the guitar is cutaway at the neck for the comfortable playing off the top frets and for better access. This guitar stands out in the crowd because of its incredible sonics and projection.
Pros
Incredible sound quality.
Harwood construction.
Sturdy and stylish.
Great value to your money.
Cons
CHECK THE CHEAPEST PRICE ON AMAZON!
15. 38″ Sunburst Wood Guitar

38″ Sunburst Wood Guitar consists of pure wood. It is constructed robustly to avoid dents or endures the impact if it falls on the ground. It is highly durable and does not need a lot of care. Incredible soundtunes nicely and produces pleasant guitar riffs. If you are beginners, then make it your first choice, no doubt this product will come in handy.
Professionals and kids also love this guitar. It features many accessories with a complete package. The accessories include carrying case with the shoulder strap, shoulder strap for the guitar, guitar picks, and the spare string.
It looks beautiful as it has a lovely smooth and glossy finish, which makes it look very stylish and elegant. It is constructed using wood, which makes it sturdy. The item weighs 4.15 pounds. The total dimension of the product is 38.5 x 17 x 4 inches. Nothing is better than this guitar to start learning new skills.
Pros
Durable
Added accessories.
Great for beginners.
Impressive sound quality.
Looks attractive.
Cons
Packaging can disappoint.
CHECK THE CHEAPEST PRICE ON AMAZON!
FAQs on Acoustic Guitars under $1000
1. How Long Does It Take To Learn Acoustic Guitar?
Hard work is the most fundamental question that hits everyone's mind who thinks of buying any musical instrument. Even the best guitar players in the world will say that they are still learning.
So, there is no simple answer to this question, and you should play an instrument as a never-ending journey. The more you practice and the more you play the tune you already know, the better you will get at the guitar.
2. Does Acoustic Guitar Damage Fingers More?
Your fingers might hurt while playing an acoustic guitar. Yet, slowly they will get used to the strain and toughen up. Your fingers will then develop calluses, and you can carry on playing the guitar. If they hurt a little too much, it is suggested that you take a short break and give your fingers a break.
3. Is It Challenging To Learn An Acoustic Guitar Than Other Types?
Overall, the process of learning a guitar is pretty much the same as any other. The one benefit of starting with an acoustic guitar is that if you perfect it, you will easily be able to play every other type of guitar. So, it is much better to start with acoustic guitar so that you don't have to start from the bottom when you wish to shift to an electric one.
4. How To Maintain An Acoustic Guitar?
The one thing about the acoustic guitar is that they are sensitive to temperature and humidity. Sudden changes in temperature can also adversely affect your acoustic guitar. So, make sure that you keep it in a dry place and save it as much as you can from moisture.
5. Why Do Acoustic Guitars Vary In Range So Much?
The reasons why acoustic guitars come in so many different ranges are several. The main factors are the quality of the wood, the type of strings, and also other such factors.
The finishing on the frets is another major factor that contributes towards the cost of any guitar. If you can sort out your needs and compare the options you have, you are sure to end up with the best acoustic guitar under 1000.
Buy An Acoustic Guitar As Per Your Needs
As with any other purchase, the key to finding the best acoustic guitar under 1000 is to take your time to choose. Do not rush into a decision in haste. Compare the options you have at hand.
Before everything, you must sort out your own needs to make sure you buy the guitar that suits you. There is no shortage of websites where you can go through a variety of acoustic guitar models and decide for yourself which of them suits you the best.
Pay no heed to the myths and be courageous about the decision. If you wish to buy an expensive and advanced acoustic guitar, go ahead and buy it. Always check the reviews from the customers. Check the features, sound quality, wood type, guitar brand and other essential factors.
Once you buy your acoustic guitar, be ready to give enough time and practice hard to learn it.
In the beginning, it may seem difficult but remember nothing is impossible if you work hard. Do not let any hurdle stop you from achieving the goal. You must believe yourself and realize your hidden potential. You never know one of the biggest superstars inside you might be waiting to be unleashed.