With the presence of thousands of acoustic guitar brands, manufacturers, different types of models, it has become extremely tricky to select one fine piece of Guitar. But the market has also seen quantum leap in the quality of guitars that are being manufactured and the prices of the same are reduced and that's a good news.
Thus, to make your purchase easier, we've curated this buyer's guide that will present a broad cross-section of the industry. In the guide, we shortlisted 15 best acoustic electric guitars that range from high-end investment pieces to affordable models.
Guitars in this list are the highest scoring pieces and you can either choose best acoustic electric guitars Under $500 from our catalogue, or you can read the factors that help you compare and find your own masterpiece. But before we get there, let's explain you some benefits of having an acoustic electric guitar.
CHECK THE TOP ACOUSTIC ELECTRIC GUITARS UNDER $500 NOW!
Benefits Of Investing In An Acoustic Electric Guitar
The acoustic electric guitar is addition of a magnetic pickup, microphone and a piezo pickup to the acoustic version which makes it easy for the guitar to be connected to an amp. Also known as electro-acoustic, this kind of guitar is ideal for people who loves the plucking and woody sound produced by the acoustic yet require plug – in features.
Here, another question may arise regarding why opt for acoustic electric guitars when a more sensible option can be the electric guitar that comes with all necessary techniques fitted. The answer lies in the plugging in feature.
True, an acoustic electric guitar may not be as advanced as an electric one but when it comes to random jamming session or for beginners, then having acoustic at your disposal is beneficial. An acoustic guitar is always the best starting point for any amateur/learner.
But, being an expensive and memorable investment, one cannot think of purchasing another upgraded version soon after learning. The acoustic electric guitar bridges this gap. You can still practice with the acoustic and when required plug it in to an amp.
Hence, the versatility of the acoustic electric guitar makes it a favorite not only amongst beginners but also for many professionals.
Factors To Look At Before Purchasing Best Acoustic Electric Guitar Under $500
When it comes to music, it all boils down to what suits you. It does not need be similar to that of the other band players, it is all about you. That said, there are a few technicalities that you need to mind when you are looking for buying your first acoustic electric guitar.
1. Pickup System
The addition of the magnetic pickup makes the acoustic electric guitar perform consistently. But, the type of pick up added to the instrument also plays a role. Usually, there are three types of pickups
Piezo-electric transducer which can be found beneath the saddle, near the bridge. This system requires a 9V battery to fuel the power and the preamp.
Regular bar shaped magnetic pickup can be found near the sound hole mount which sits under the strings. This system requires no special alterations of the instruments.
Electret condenser microphone is a small installation within the guitar.
While learners can stick to the old school magnetic pickup, future customization is possible with adding either two or all three systems.
2. Body
There are no special modifications done for acoustic electric guitars. Rather, it is same as any acoustic guitar with the exception of the cutaway. The electric acoustic does come with the option of having a cutaway or not which enables a better access to the frets at the tp.
This is useful for learners as that ease of handling offers faster learning experience. Another thing that affects the tone quality is the material used to build the guitar. Usually, spruce and cedar are used for the top while maple, rosewood and mahogany line the sides and form the back. The benefits of each wood type are:
Spruce is not only study but offers a great balance of the body making maneuvering easy. Resonance is achieved of a far superior quality. Given the sturdiness of the wood, this top makes flatpicking and strumming more tension free
Cedar is known for its darker shade and the low tension tunings when picked. But this is not the wood you would want if you plan to strain your instrument.
Rosewood especially the Brazilian rosewood cariety offers amazing timbre and a rich tone which is cherished by experts. But the scarcity of this wood makes all rosewood based guitars expensive.
Mahogany offers a more balanced rich tone contrasting with sweet high tone and ideal for light players, especially pop.
Maple is easy on the pocket and known for a drier tone which is clear and really high. If you plan of holding street performances then maple body will be ideal for you.
A special mention can be of the synthetic body. Very few companies offer acoustic guitars with a syntetic body as it beats the traditional feel and sound. Yet, many opt for these as they are more durable as compared to wooden counterparts. And they are easier to carry, but the downside is they lose on the chance to have a heavier tone which comes to wood based guitars who have aged gracefully.
3. Strings
The strings of the electric acoustic guitar are as same as that of the acoustic guitars as they have the same functions. The addition of the pickup plays not part in string quality and material. The gauge for these guitars is generally of two types:
Lighter which are easier on the fingers, good for fretting and notes bending and exerts lesser strain on the neck of the guitar making them ideal for old guitars. On the down side the lighter strings can break easily and are often prone to cause the bussing of the frets. The volume and sustain too are lower but the treble is greater.
Heavier gauges are more correct for professionals as they are difficult to play unless you have years of practice. On the bright side, the volume and sustain are incredible and the tone quality is darker and richer.
The thickness of the strings depends on personal choice and the kind of guitar you own. Heavier guitars can hold both kind of strings but the lighter versions are better off with lighter strings. Apart from the gauge, the material used in the making of the string also affects the sound quality. Bronze is the most common metal used in the making of the strings.
Even though they are not very costly, the sound produced is bright and warm. If natural sound is what you aim for then nickel strings are what you should look for.
Brass and aluminum have a higher sound with the aluminum being more bass oriented and crisp while the brass is jangling in nature. Another variation is the steel core strings which offers richer and more soft tone making it ideal for guitarists who prefers to play folk music or fingerstyling.
4. Fretboards
Also known as the fingerboard, is the section that plays a vital role in notes and tones. No matter what the body is made of, it is this fretboard that defines the make and beauty of the acoustic electric guitar. The signs of a good fingerboard are its smoother finish and a uniformly smooth fret wire.
This makes notes sound on key and lessens the buzzing. The gap between the fretboard and the strings too play an important role. Known as Action, this gap leads to the speed at which you will play the instrument, properly.
Larger gaps will lead to difficulty in keeping up pace with a fast song, smaller gaps will cause fretboard buzzing. The truss rod is there to aid in the adjustment of the gaps.
The acoustic-electric guitar is costly. But don't worry we are here to help you. Here are some guitars that can be affordable for everyone who wishes to have a guitar with them. Take a look at the list.
Top 15 Best Acoustic Electric Guitars Under $500 2022
1. Jameson Guitars Thinline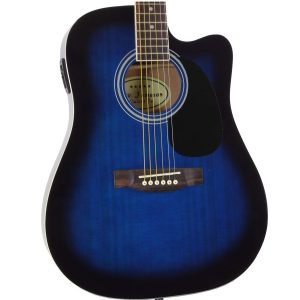 Jameson is a family company that provides stylish and quality instruments at an attractive price which proves to be ideal for beginners. The Thinline series boasts of a 41' full scale body with a cutaway so the higher frets are more accessible.
And, all these with a 3 inch scale length make the guitar easy to carry and handle. The Nato wood body is a good replica for the Mahogany wood giving musicians the same look and rich tone at an affordable price.
A spruce neck provides a balanced sustain and stiffness that adds more to the tonal output as less dampening happens. Steel 6 strings makes up for more range and variations also makes fingerstye playing a breeze. And another best thing about Jameson guitars is that they provided guitars for both type of dexterity – left and right. So, nobody needs to feel left out.
Pros
6 stings
Built in pickup
Guitar picks ang gig bag included
Tuners are die-cast and enclosed
Cons
Needs to be tuned constantly
CHECK THE CHEAPEST PRICE ON AMAZON!
2. Glen Burton
GA204BCO-BK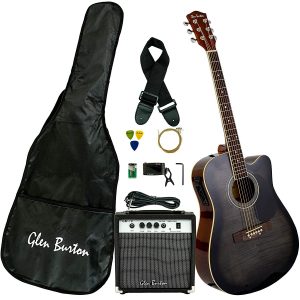 If budget and reliability is higher on your mind then Glen Burton is the one to choose. Not only do they provide the best acoustic electric guitar under 500 but they bundle it with various accessories to help beginners on their road to musical peace and glory.
The kit comes with additional strings, guitar picks, strap, truss rod, digital tuner and a 10W amplifier. What else can a beginner ask for? Yet, this electric acoustic guitar is equally useful for the professional. A cutaway body to keep in style with the accessibility.
The body is made of maple top that provides you with great sustain, basswood is used for the back and sides balances by providing a rich music. The fretboard is rosewood which offers a rich tone and is durable (bonus) and a neck made of catalpa. This wood is not very famous yet the sound quality is great and is sturdy which makes sustain better.
Pros
No buzzing, provides a balanced tone
A full guitar kit
6 steel strings
Sealed gear tuners
4 band amplifier for authentic sound
Cons
Nut quality could be better
The amplifier is not loud enough
CHECK THE CHEAPEST PRICE ON AMAZON!
3. Fender CD-60SCE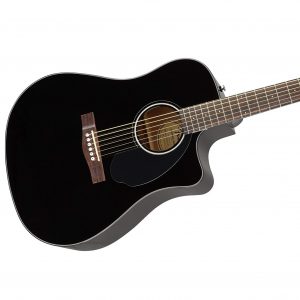 From the iconic house of Fender comes an affordable and beautiful acoustic electric guitar that is idea for beginners and experts alike. The dreadnought cutaway is not only polished and finished to perfection but the upper fret access is amazing.
This model is ideal for easy home learning or taking it to the streets and having impromptu jam session with your gang. The body is made of a combination of laminated wood and solid wood. The solid spruce provides the durability for strumming and flatpicking while the scalloped X bracing provides the protection that beginners look for without compromising on the volume and tone quality.
The back and sides are made of laminated mahogany which provides all the richness and dryness of the mahogany wood at a much affordable price. The pickup system is by Fishman who are known for their quality amplification performance.
Pros
Combination of wood for richer experience
6 strings
Fantastic sound and resonance
Digital Clip tuner is made of chrome and aids with perfection in tuning
Hardshell case and DVD for beginners
Cons
Sometimes the strings buzz
Frets ends were sharper than usual
CHECK THE CHEAPEST PRICE ON AMAZON!
4. Vangoa 41 Inch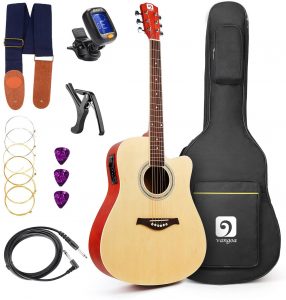 Launched in 2017, Vangoa has still managed to grab attentions of music enthusiasts with their design, affordability and quality. Addressing the problem of string pulls and the warping of wood, the truss rod design is unique as it counters the pull of the strings helping in maintaining a straight neck for a really long time.
The guitar comes with a truss rod wench that will help you to make necessary adjustments to the strings height on the fingerboard to get the correct intonation and easy playability. The back, body and top are made of basswood which is of great tonal quality and at par with maple in terms of sturdiness and producing a fat tone.
The 41' full size body with 6 strings is not only portable but offers the complete pro feeling especially if you want to play outside. The 4 band EQ with volume control provides stage quality performance capability.
Pros
Tuning pegs are made of metal and are of the open type for better retention and being dustproof
Full beginners' kit includes additional strings, pick, truss wench, straps and amplifier.
Lightweight
Clip on tuner for easy tuning
2 years warranty
Cons
Does not always feel like a traditional guitar
CHECK THE CHEAPEST PRICE ON AMAZON!
5. Yamaha APXT2

For years, Yamaha has ruled the musical instruments industry and rightfully so. With their level of experience and craftsmanship, each and every instrument that leaves their company is an artwork. The Yamaha APXT2 ¾ is no exception, rather it is a smaller package with a greater explosion.
The small sized guitar is based on another one of their popular variation, the APX500. The spruce top does its usual work of being sturdy and an all-rounder in terms of tonal quality.
Jazz and Blues players would love the spruce top for their bright yet subdued tone. The back and sides are made of meranti which is known for its sturdiness and good tone. ART based pickup that provides great accuracy and sensibility when coupled with Yamaha's tuner.
The guitar also flaunts a system68 electronics that includes ARTechnology, Tone and Volume controls, Pickup and a built-in tuner which offers quick and easy tuning. The rosewood fingerboard offers a warm and mellow sond to go well with any style.
Pros
Lightweight and compact
Built-in tuner
ART for better accuracy
Gig bag is included
6 strings
Cons
Loose on button fickle
Can sound like a toy
CHECK THE CHEAPEST PRICE ON AMAZON!
6. Ashthorpe Thinline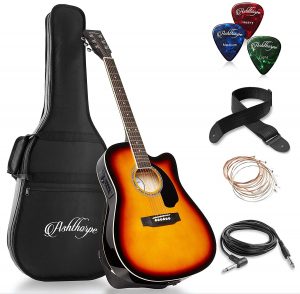 A classic looking guitar bundled with all modern fittings that any professional can ask for, the Ashthorpe guitar is ideal for beginners and professionals alike. When it comes to budget buys without compromising on the sound quality, then this guitar is what you should consider. This 6 string guitar boasts of a thinline cutaway design that is sleek without being sloppy.
The full scale 41' body with a 3' neckline is responsible for unparalleled sound. The guitar is also on the lighter side making carrying, travelling and handling easier especially for the new students.
Coming to its body, it is composite, made of X braced spruce which is sturdy, versatile and resilient with a sweet tone and basswood body making up for the warmth feeling and all woody sound. If aesthetics and natural is your dream then this guitar is right for you.
The chrome tuning pegs are sturdy yet easy to turn and the 4 band EQ makes the guitar stage ready in an instant. The fun does not stop here, for the guitar comes loaded with a great kit that includes three celluloid pickups (light, medium and heavy), nylon guitar bag, shoulder strap and extra phosphorous strings.
Pros
Complete guitar kit
Hardwood construction for durability
Aesthetically looking
Good for flatpicking and strumming
Great tonal quality retention
Cons
Guitar bag can be made of better material
CHECK THE CHEAPEST PRICE ON AMAZON!
7. Best Choice Products 41 Inch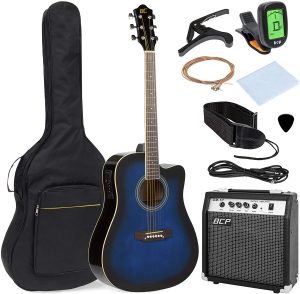 While not many may know about this brand, the quality of the products is at par with well-known brands. For people wanting to learn the strings yet not sure where to begin and what to buy, the Best Choice Products can be a good investment.
The linden wood body (back, top and sides) is a good substitute for alder and maple in terms of resilience without losing on tonal qualities. The okoume neck is again a good substitute for mahogany as it is inexpensive yet offers a great tonal punch to any song.
The 41' full size body makes it ideal for beginners to learn more about handling the guitar with ease while playing it. Cutaway provides better access to the frets on the upper end without many adjustments to positioning required.
The guitar also comes with a 10W amp that includes treble control, bass and volume control, and amp cable. Given the price, the product also comes loaded with accessories that are a must for every guitar owner, like, digital clip tuner, carry bag, 4 guitar picks, additional strings, and a capo that is used to clamp down on a particular fret on the fingerboard.
Pros
Wider acoustic range
4 band EQ
Pre-installed transducer for vibration transmission to the amps
Digital tuner
Ideal for beginners
Cons
Strings are higher up the frets
Additional string quality can be better
CHECK THE CHEAPEST PRICE ON AMAZON!
8. Donner Dreadnought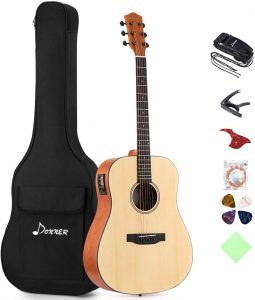 Donner is known for their attention to high craftsmanship and providing the very best in terms of guitar build. Starting from the wood collection to the drying process to making them and maintaining the quality, Donner is a name that can be easily trusted.
They are well known for their unique tuning design with sealed tuning pegs made of alloy metals ensures that the guitar stays in tune no matter what. The 41 inch dreadnought body provides a richer and fuller sound which is also very vibrant. In fact, this body is ideal for all kind of music styles.
If you want ti explore your genre then choosing the correct guitar as a beginner is essential. And this acoustic electric guitar under 500 is ideal for you. The body is made of spruce top and mahogany for sides and back that offers great and vibrant acoustics.
If you are looking for more natural and traditional sound then this guitar is ideal for you. This guitar comes with bronze strings offering light to medium gauge which is ideal for easy strumming yet good resonance is guaranteed.
Pros
30 days unconditional money back guarantee
Built in preamp with 3 band EQ.
Integrated tuner for easy and fast tuning
Kit includes guitar bag, strap, capo, extra strings, guitar picks and polishing cloth
Cons
CHECK THE CHEAPEST PRICE ON AMAZON!
9. Vangoa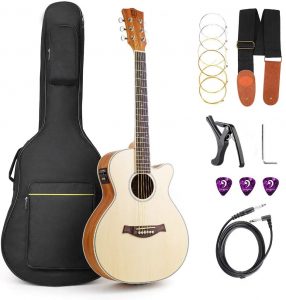 Who says good things cannot come in small sizes? The Vangoa 36 inch electric acoustic guitar offers not only better portability without compromising on the sound quality but also are great for any level of musician. Even though they started out fresh, only 3 years old, they have already made a name for themselves worldwide.
The spruce top coupled with sides and back made of sapele (which is similar to mahogany in terms of tonewood) gives the guitar quite a sturdy body which is ideal for carrying around and in terms of sound you can rely on a bright and well balanced tone with a good ear for overtones. The treble is also great.
The built in truss rod offers straighter neck no matter what the string tension is. The 2 band EQ with built in tuner makes the guitar become stage ready in jiffy. The guitar comes loaded with everything that any beginner will need – capo, extra strings, 3 picks, strap, soft guitar carry bag and truss rod allen key (making guitar sting adjustment easy).
Pros
Built in tuner for easy and fast tuning
Bass and treble EQ with volume control for performing at any stage
Good accessories for beginners
The wood provides good resonance
Closed tuner pegs
Cons
CHECK THE CHEAPEST PRICE ON AMAZON!
10. Fender FA125CE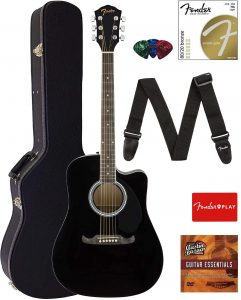 Nothing beats a good quality full body guitar from Fender. Known for their precision and ear for music, the Fender house has stood the test of time and keeps coming back with better design and quality craftsmanship.
The FA – 125CE is dreadnought with 41 inch 6 string get up that is ideal for every beginner. The single cutaway is made in such a shape so that accessing the higher frets will not mean constant shifting ad adjusting your posture.
The combination of spruce top and basswood body is the ideal in terms of tonal quality so the contrast of tone in terms of sweet yet deep is achieved with this body. The laminated wood assures the longevity of the guitar and a must for people who are at constant risk of mite attack. Nothing irritates termites more than laminates.
The laminated body also offers great protection against changing weather. The Nato neck and walnut fretboard combines to make a dense sound with good sonic. The walnut fretboard will provide you with a fuller tone with more tightness.
Fender also provides a learner manual and DVD for their buyers as a part of their kit which also includes hard case, extra strings, 3 picks and straps.
Pros
Laminated wood for better longevity
Viking bridge for good tone support
Fishman system that provides good preamp
Good acoustic tone
Fretboard made of walnut for good playability
20 frets and 6 strings
Cons
CHECK THE CHEAPEST PRICE ON AMAZON!
11. G.Great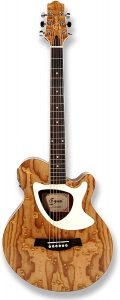 Made keeping the western market in mind, this guitar offers everything that a beginner can ask for at an attractive price. Everyone knows the importance of good wood in acoustic electric guitars as the wood determines the tone and use of the guitar. Often the genre you prefer can be determined on the kind of guitar you play.
The G.great guitar has a 39 inch cutaway body that is easy to maneuver and learn. The laminated body provides great protection against warping yet retains the sound quality. Made from ashwood, the guitar is resonant yet light in sound and a really good sustain. The fretboard and bridge is made of rosewood providing loud and vibrant tones.
Pros
Lightweight
Durable
Good for beginners
6 steel strings
Cons
CHECK THE CHEAPEST PRICE ON AMAZON!
12. Fender Dreadnought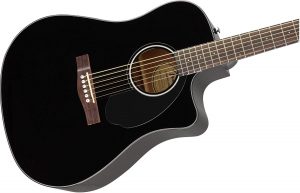 Nothing beats the joy of holding a renowned brand as your first guitar. If you are looking for the best acoustic electric guitar under 500 and still get a quality product then the Fender CD-60SCE is what you have been looking for. The Venetian cutaway is ideal for beginners who are learning the nitty gritty of the strings.
The body is laminated with a spruce top and mahogany body that provides loud sound with a crisp and warm tone. This wood combination is ideal for strumming every kind of song and even go flatpicking without worrying about damaging the guitar.
The rolled fretboard makes playing and shifting along the frets easy. The Fishman electronics that is incorporated in the guitar body is a top of the range preamp and tuner system that amplifies the vibrations seamlessly.
Pros
X scalloped bracing that offers great protection
Rosewood fretboard
Affordable
Lightweight
6 string
Cons
CHECK THE CHEAPEST PRICE ON AMAZON!
13. Fender Concert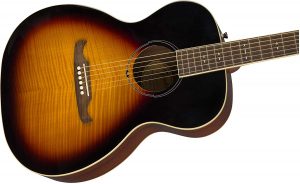 Nothing beats the quality that comes with years of experience in honing your skills to perfection. The same is applicable for the musical instrument that you choose. The Fender is one such brand that has years of experience catering to well-known guitarists. They know what works and how.
Whether you are a beginner or a professional, a good guitar is the best gift for your talents and skills. The guitar comes with a gig bag that includes fender extra strings, 3 pickups, guitar strap and tutorial DVD. Laminated body provides great resonance and sound quality with the added advantage of longevity, mite protection and weather protection.
The 6 steel strings give great sound especially when plucked. The nato wood neck is ideal for hard jamming sessions without fear of damaging it permanently. After all, practice will make you perfect.
Pros
Startup gig for beginners
Fishman electronic pickup and volume control
Classic whole body for the concert feel
Durable carry bag
Cons
Can be a bit harder to carry for beginners
CHECK THE CHEAPEST PRICE ON AMAZON!
14. Lava Acoustic

While some tend to stick to old style, many believe that the new world deserves something new. With this thought in mind the Lava ME series from Lava Music came up with an innovative design that not only redefines the way we look at a guitar but also incorporates a new line of thinking.
The sleek and geometric design is made from a single moulded technology that makes holding the guitar comfortable and easy to play. The carbon fiber material made from AirSonic technique gives all the tonal quality of wood without the expiry date.
No matter what the weather, the guitar will remain the same for years to come. The 36 inch body gives a really loud sound even though the sound board boasts to be the lightest ever.
The L2 pickup and FreeBoost technology makes playing outdoors without an amp a possibility. The HPL flyneck makes fretting a breeze; also the material is not prone to bend no matter what string tension is applied.
Pros
Lightweight, extremely portable
3 different kind of picks for versatility
Plek Pro is the most advanced fretting machine
Carry bag that is sturdy yet light
Percussion receiving mic is enabled
Cons
Requires frequent charging
CHECK THE CHEAPEST PRICE ON AMAZON!
15. Akamine Dreadnought

A full body guitar is what you need when it comes to learning your first strumming techniques. Combining the best of acoustics and electronics, the Takamine GD71CE-NAT series comes with classic wood body combining the best of every world.
The spruce top and the mahogany back and sides give the guitar a great sound quality with an ell rounder effect. The hard spruce top will easily let you flatpick your favorite songs with a rich and more in detailed sound. The cutaway design enables beginners to easily access the top frets. 6 steel strings make it ideal for beginners.
The rosewood headcap gives more support. The 3 band EQ and built in tuner makes you ready for an impromptu talent display on any stage. The guitar also comers with an EQ bypass switch that provides better sound quality and more versatility. A natural looking body with a glossy finish will ensure you grab eyes whenever you bring your guitar out of its bag.
Pros
Classic design
Laurel fretboard
Built in tuner
split bridge saddle
bone nut
die gast tuners with amber buttons
Cons
split saddle can be a bit difficult
no carry bag provided
CHECK THE CHEAPEST PRICE ON AMAZON!
FAQs on Acoustic Electric Guitars Under $500
1. What Is The Best Acoustic Guitar For Beginners?
The right acoustic guitar makes playing a lot simpler and enjoyable, so you're bound to stay with it. Our general suggestion is Fender CD-60S. This beginner-friendly acoustic guitar conveys all that you could require when beginning, and all at entry-level cost.
2. What Is The Best Electric Guitar For Beginners?
PAC 112v by Yamaha is another sensational guitar which has topped our premium choice leader-boards. On the front, this guitar serves a maple neck which is coated by the thin satin finish and has a C design that feels thinner for beginners and easy to handle.
3. Is An Expensive Guitar Worth Purchasing?
That depends on a couple of things, not the least what you mean by the term 'expensive'. For some, a $ 3000 and up guitar is just what you pay for a good, pro-level instrument, for others that is way over the top. Furthermore, it depends on whether or not you can appreciate the differences between a regular, excellent guitar and the higher priced ones.
4. How Loud Should My Guitar Be?
Depends on your pitch. Always remember that your guitar should never overshadow your vocals. Check with and without plug ins so that you can find your comfortable pitch and volume without compromising on the quality of your playing style and song.
5. Is The Guitar Hard To Learn?
It's no walk in the forested areas from the outset, yet playing the guitar is a skill that turns out to be easy with time. It takes a lot of practice however will be far beyond justified, despite all the trouble.
6. Should I Buy A New One Or Opt For A Second Hand One?
Opting for a second hand guitar is not an issue because guitars rarely change over the years. But, the benefit of getting a new one is, apart from the warranty, you can start from scratch.
Preowned guitars often come with a set tuning which can be difficult for a novice to understand and unravel. Then comes the shape and handling of the guitar. There are various newer brands that offer a dynamically different design. You can opt for those.
Best Acoustic Electric Guitars Under $500 – Your pick?
Whether you are enjoying a solitary evening or want to make it big in the music world, having the correct instrument will take you a long way towards your goals. Do not choose blindly or get inspired by your favorite guitarist. Your comfort level and style should be your guiding light.
Once you have brought your choice of guitar, you can let the strings do the rest. Learning to play the guitar may not be difficult for you but taking good care is something that many people miss. Your guitar needs as much time and attention for its grooming as anything else.
Cleaning it with a dry cloth is essential. While wood ages beautifully, dampness can cause the sound quality to reduce greatly. Keep your guitar dry. It is also essential that you take your guitar for a tune up every month. A proper technician is whom you should seek out for a better job.